For your site to be a "selling machine," it needs to be just the opposite of the all-too-common site that we've just described!

When a person first gets to your site, they should instantly know what it has to offer that'll make their lives better. They should also instantly know what they should do to take advantage of the benefits your site offers them.

Your site should tell enough about the person or company behind the product or service to build a feeling that they know, like and trust you. That generally means that they need to know something about WHO is personally behind the site. People relate to other people, one-on-one! Even if it's a business-to-business site, the person making the buying decision relates to individuals.

Tell your potential customers who you are, why you're qualifiedto solve their problems, why OTHERS say that you provide top-notch service, and why you're the ONLY choice for them.

Then, make it incredibly easy to purchase from you, and incredibly easy for them to contact you if they have questions. Give them an email address, a physical address, and a phone number. Alongside your physical address, confirm what time zone you're in and give them your business hours if you conduct business over the phone.

You should consider offering them the option to order by phone or fax.





Consider offering them a toll-free number. If you live in the continental United States, you can offer your customers this option for as little as $39.95 per month. That's all I pay to offer this option to my customers :-) For a little more than $1 per day, your customers can just pick up the phone, speak to a reassuring voice on the other end, ask a quick question or two, and give you their order.

If you'd like to know what service I use, it's at:
http://TheRealSecrets.com/toll-free-numbers.html

Since you should be offering them a toll-free number, you probably also want to be able to just jot down their order right over the phone. That means you need a merchant account that allows you to key in orders from your virtual terminal or into a physical terminal. You can get set up with merchant account, virtual terminal and gateway for less than $100 if you live in the US. So you have no real excuse there either.

If you'd like to know what company I use for taking my order right over the phone if I want, just visit:
http://TheRealSecrets.com/really-cheap-merchant-account.html

One final thing you need to do to make it REALLY easy for them. Give them a printable order form that they can fax or mail to you. There are people who still don't trust online forms for some reason. Don't make it hard for them to get your stuff. You ARE trying to make a sale aren't you?

If you see yourself making any of the mistakes above, then you've just figured out why you're not making 1/10th the sales that you could be making. You've also just discovered how to FIX the problem. Now all you need to do is just do it!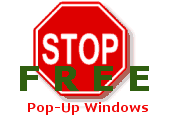 Adlandpro Toolbar gives you instant access to your Free Email Account, Free Website, submission to over 8,900 sites, learning tools, free discussion list on marketing and promotion with 26,000 subscribers, Free 5 day Website Success course by email, plus instant search. Click Here.