The Ins and Outs of eMail Attachments
© 2004 By Mike McDaniel



The Internet people have figured out a way to allow you to send formatted documents, photos, sound and video files as attachments to your eMail messages.

Any file that can be stored in your computer can be sent to another computer as an attachment. As good as this sounds, the creeps who develop the dreaded computer virus strains also use attachment to carry the infection.

The first rule of attachments is; Never ever open an attachment from someone your DON'T know!

The second rule is: Never open an attachment from someone you DO know, unless it is expected!

Some infections steal whole address books and send deadly attachments to unsuspecting friends who open without thinking, based on the return address.

The procedure for attaching files varies depending on the type of eMail program you use. In general, you click on the "attach" icon, such as a paper clip, located on the toolbar of the program.

You then select the file you want to attach by locating it on your hard drive or on disk. Once you've selected the file, either its name will appear as part of the eMail header, or as an icon within the body of your eMail message.

Get Your own profile like this one at Adlandpro Community
The recipient must have software that is compatible with your file(s). For example, if you send someone a Newsletter created in Microsoft Publisher, your recipient must have Microsoft publisher installed to see the file you attach.
Make sure what you send is compatible with your recipient's computer; a Macintosh machine may not be able to read some Windows files, and vice versa.

The people at Adobe(R) have figured a way to make documents play on all machines, regardless of the software that created them. A way to make documents portable. The software that allows this portability is called Acrobat(R).

Acrobat documents have a .PDF suffix, which stands for Portable Document Format. Almost every computer sold in the last several years has Acrobat Reader(R) installed. When a document comes attached to eMail, a click on the attachment automatically opens the Acrobat Reader(R) and the document is displayed just as it was created, type fonts, pictures, layout, design and color. PDF documents can be printed or saved to disk. In most cases, PDF documents are not editable. Portions of text cannot be highlighted, copied and pasted into other documents. PDF documents are read only.

To create a document in PDF format, you will need the Adobe Distiller(R) a program for sale at computer retailers everywhere. To read an Adobe document, all you need is the Acrobat Reader(R). It is easy and simple to get and install, and it is FREE. Anyone can do it in a matter of minutes.

There are several places on the Internet that will convert your document to Acrobat for free. And companies (other than Adobe) who make software that will convert documents to PDF files.

To download and install Acrobat Reader(R), please visit
http://www.adobe.com/products/acrobat/readstep2.hRl



Visitor only for $0.01. Try our pay per click search engine. The cheapest on the market. Start here..
How do I view an attachment?

In most eMail programs, you click on the attachment Icon or the name of the attached file. If the corresponding program is in your computer, It will open and display your attachment. If not, you can right click you mouse over the attachment name and select -open with- and indicate the program you want to use to open, read or display the attachment.

Remember:
NEVER open an attachment from someone you DON'T know, or an attachment you did NOT know would be sent to you. Attachments are the primary delivery vehicle for the dreaded computer virus. Especially if the attachment has an extension which looks like "filename.exe".

Never open an exe attachment unless you are absolutely sure what it is and where it came from. Opening it to see for yourself could release a virus bug that may spell the end of your computing for some time, not to mention the loss of everything on your hard drive.

Just receiving an attachment will not infect your computer. Opening or running it can. If you don't know why you got an attachment, contact the sender directly to verify that it is what it appears to be.

Be very suspicious of any eMail from a stranger. Your "delete" key is sometimes the most useful key on your computer. If you have any doubts, delete the entire e-mail without opening it.

ABOUT THE AUTHOR:
BIG Mike McDaniel is a former successful radio station owner and major market TV News anchor and nationally recognized Speaker, Author, and Small Business Consultant. Subscribe to "BIG Mike's BIG Ideas" Newsletter without cost, click on the MailTo: link to send a blank email to the subscription robot.
MailTo:subscribe-956603364@ezinedirector.net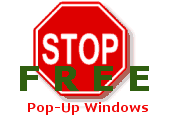 Adlandpro Toolbar gives you instant access to your Free Email Account, Free Website, submission to over 8,900 sites, learning tools, free discussion list on marketing and promotion with 26,000 subscribers, Free 5 day Website Success course by email, plus instant search. Click Here.