Cut your price by a penny -- and raise orders by 10%
© 2004 By Marlene Jensen





If your product or service is priced at a "barrier number," you're
throwing away sales - unless your product is a specific type
mentioned later in this article.

To tap the power of human psychology, your price should not be
$15 or $10,000. Instead, $14.99 and $9,950 are likely to gain you
5-15% more orders.

Most marketers know this. The problem is that lots of us don't
use this knowledge.

"That's ridiculous!" I've had clients tell me. "Everyone knows
that $299 is really $300. You're not fooling anyone. I'm not
going to insult people by using a stupid price like $299."



Shirley's General Info




Hello! I'm Shirley Turetsky

6

Friends
Member since

3/22/2004





However, as marketers we're supposed to give people what they
want - not what we think they should want. You might believe
people should respond to $14.99 exactly the same as to $15,
but that doesn't mean they do. Customers have shown repeatedly,
in test after test, that they prefer $14.99 to $15.00. And,
frankly, who are you or I to tell customers what they should be
doing?

Example: BackCountryStore.com dropped all their whole-dollar
prices by a nickel and told MarketingSherpa.com, "It's had a
pretty dramatic effect. We're having more sales because of it."

If your position is the "cheapest"

Wal-Mart has taken this tactic even further, with prices that end
in strange numbers such as $12.87 or $9.44. Those numbers carry
this subliminal message: "We're keeping prices so low we didn't
even round them up by a few pennies!"

Visitor only for $0.01. Try our pay per click search engine. The cheapest on the market. Start here..
However, I spent a full hour, recently, looking at prices in a
Wal-Mart. Guess what? While they had some even-dollar prices,
I never saw a price ending in 1-9 cents. Also, for every 10-15
items ending in 44-99 cents, there was just one ending in 11-43
cents. Example: Out of 53 small items (drill bits, etc.) sold in
one section, just seven had prices ending in 10-43 cents (none
ending in 1-9 cents).

Obviously, this is too big a difference to be unintended. This
says Wal-Mart knows that if they're adding cents to a price, they
might as well add more cents than less cents. Because,
psychologically, more cents won't hurt the sales -- only more
dollars.

Services costing thousands of dollars

People about to spend $10,000 or $20,000 for a consultant or
other professional are human too. They would prefer to spend in
the $9,000s instead of in the $10,000s. But a $9,999 price has
too "bargain basement" a look to it. Instead, price at $9,900 or
$9,950. That $50 to $100 you give up could greatly increase your
likelihood of getting the job.

If you sell luxury items

If you have a luxury product or service, you should probably not
use discount-looking pricing. Certainly not without a test to see
if it hurts your product's or service's positioning.

If you're the best hairstylist in L.A., your prices should be in
whole dollars. If you're selling the most expensive bubble bath
in the world - price in whole dollars.

Visitor only for $0.01. Try our pay per click search engine. The cheapest on the market. Start here..
For example, Harvard publishes a number of health newsletters.
Given the Harvard name, these marketers have decided to use whole
dollar prices - selling those newsletters at $22 or $24 instead
of $21.95 or $23.95.

What should you do?

If you're using whole-dollar prices and are not a luxury product,
you should immediately test prices just below your whole dollar
number. Your bank account may thank you!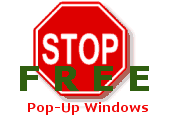 Adlandpro Toolbar gives you instant access to your Free Email Account, Free Website, submission to over 8,900 sites, learning tools, free discussion list on marketing and promotion with 26,000 subscribers, Free 5 day Website Success course by email, plus instant search. Click Here.