Are YOU The Weakest Link?
© 2005 By Dave Shannon





Your website cost a small fortune but it looks dynamic.
All the internal links work and your online business is
ready to go. Everything is perfect. Or so it seems. Every
hyper link may be in place and every graphic perfect but
before you venture forth for one more day of cyber-business
as usual, check to be sure that you are not the weakest link
in your online business.

Just like the hot new game show which will unceremoniously
cast you out of the game for hemming and hawing, so it is
with the fast paced world of e-commerce. If you want to
succeed, you must arrive prepared.

The fact is that we can all be our own worst enemy especially
when the unexpected arises. In cyber-business, it's a given
that many unexpected situations will arise. So now is the
time to arm yourself with the tools to succeed and become
the power link in your business building campaign.

Consider the following situations before they arise:
Gail's General Info




Rowena & Gail

66

Friends
Member since

8/25/2004

1. Too Much Success. Yes, indeed, even too much of a good
thing too fast can overwhelm you and put your business into
a downslide. Be prepared to say no when you have reached
your capacity. Better yet, start a waiting list. This little
technique will make you more popular, not less, and give
you the breathing room you need to grow at a stable pace.

2. Slow Times. Every business has an ebb and flow. Be prepared
for it. When business picks up and begins building at the
speed of light, don't be surprised when a month comes around
when it's slow as a snail. The key is not to panic. Every
business has months that are fast paced, months that are
average, and months that are slow. Make a spreadsheet of
this year's progress and then watch it repeat itself next
year. The numbers may be different, but speed is likely
to be about the same. Prepare for it. During the slow months
either count your blessings and take a vacation or use the
time to improve your own business model.

Visitor only for $0.01. Try our pay per click search engine. The cheapest on the market. Start here..

3. The Terminally Grouchy Customer. We all have them. Keep
in mind that some people will always find a reason to complain,
to be angry, or to be difficult. Plan on it now and you'll
be better prepared to deal with them when the time comes.
Make the logical decisions now about which terminally grouchy
customers might be worth keeping, which might not be worth
keeping, and how you will handle the situation with each.
Then when the time comes and the emotions hit like fireworks,
you'll be better able to keep your cool and handle the situation
professionally.

4. The Screw Up. Yep, it's gonna happen. While learning
and growing, adapting and building your business there will
be times that you're going to really mess something up.
Keep it mind, that's it's human and we have all been through
it. Seek support at the point of impact from someone with
business savvy and a nurturing touch. Then forgive yourself,
promise to do better next time, and most importantly, move
on. Those that hold on to their mistakes will eventually
lose. So let go, and remember it's our mistakes that teach
us the most.
Visitor only for $0.01. Try our pay per click search engine. The cheapest on the market. Start here..
Foreseeing life's little mishaps before they happen can help
us to deal with them and keeping moving forward. Don't wait,
plan for those situations now and you empower yourself to
always be the navigator of your business and it's success.


ABOUT THE AUTHOR:
Dave Shannon is the owner of VisitorsCentral.com. If you
live in a city, town, suburb, country, or anywhere in the
USA consider sponsoring your town at VisitorsCentral. Super
business opportunity and an Affiliate Program well worth
your time. Visit today at http://www.visitorscentral.com.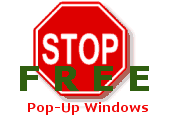 Adlandpro Toolbar gives you instant access to your Free Email Account, Free Website, submission to over 8,900 sites, learning tools, free discussion list on marketing and promotion with 26,000 subscribers, Free 5 day Website Success course by email, plus instant search. Click Here.