Building Customer Confidence
©2005 by Bob Osgoodby



Sure, the e-tools available for an online merchant are great. You
have up to the minute product selection on your web pages, and
auto-responders that can follow up requests. You have your own
online mall, immediate payment methods to prevent that "cooling
off" period, secure sites for financial transactions, and all
sorts of e-tools at your disposal. But what is wrong? You're
not being overwhelmed with sales, and barely making expenses.

Stop for a moment. Why are potential customers not placing an
order. Assuming you have a decent product and prices, why are
they not buying.
Tami's General Info




this is me and my youngest son, he is three.

23

Friends
Member since

2/10/2005
Possibly they have questions that are not being answered, and
would like to talk with a live human being. The brick and mortar
store has the edge over the e-store, when faced with a customer
that needs personal contact to feel comfortable.

If someone has reached this point, usually all they need is a
little assurance before placing their order. And here is the
funny part - they may not even want to talk with someone, but may
just want to be sure there is someone to contact if there is a
problem.


Visitor only for $0.01. Try our pay per click search engine. The cheapest on the market. Start here..

If you don't list proper contact information for your virtual
business, you may be losing customers. Your name and e-mail
address will go a long way. Even better, give them a physical
address and a telephone number they can call. You may wish to
have an "800" number, but you will get a lot of "tire kickers".
Even if you don't give a free number, just the fact that there is
a number listed goes a long way in allaying their fears.

Let your potential customers know that if they have questions,
they can email you their phone number, and you will call them.
Many times they won't, as all they really wanted to know is that
they are dealing with a real person.
Visitor only for $0.01. Try our pay per click search engine. The cheapest on the market. Start here..
They say a picture is worth a thousand words - consider putting
your picture on your web site. This gives instant identification
to your name and goes a long way in building customer confidence.

E-commerce is here to stay, but the mortality rate of "wannabes"
will be high. Those that remember the "Personal Touch" and build
customer confidence, will be among the survivors.

ABOUT THE AUTHOR:
Did you know that subscribers to Bob Osgoodby's Free Ezine the
"Tip of the Day" get a Free Ad for their Business at his Web
Site? Great Business and Computer Tips – Monday. Wednesday. And
Friday. Instructions on how to place an ad are in the Newsletter.
Subscribe at: http://adv-marketing.com/business/subscribe2.htm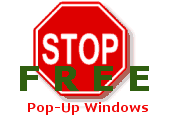 Adlandpro Toolbar gives you instant access to your Free Email Account, Free Website, submission to over 8,900 sites, learning tools, free discussion list on marketing and promotion with 26,000 subscribers, Free 5 day Website Success course by email, plus instant search. Click Here.