Do Something Different: Stand Out and Step Up Your Profits
©2005 by Michael Angier



The first step in any sales process is to gain the attention of
your prospective customer. Without doing this, there's no way to
get your message across and no way to make a sale--unless it's
by accident.

In order to excel, you must differentiate yourself.

And even after you gain a customer, it's imperative you remain
not only visible but foremost in their mind. You want your
customer to think of you first when it comes to buying your
product or service.

Differentiating yourself from your competitors is worthy of
considerable and constant attention. It will save you money,
time, aggravation and missed business.

Is this easy? No, it's not.
Lisa's General Info

82

Friends
Member since

9/17/2004

Gender
Female
Age

36

Location
King, Nc, United States
Interests
Tennis, Art, Gardening, my family, Being my own boss, Love Animals, and meeting new people.
Company
SFI Marketing Group
URL
View SFI Marketing Group's web site
Industry
Be your own boss, Fire your boss.Choose your own money making potential, Spend more time with family, Choose your own hours, Relieve the stress at your job, Retire when and how you want to. Great products and Services.
And that's why it's so uncommon. Standing out requires real
thinking. It takes brainstorming. It requires knowing what your
customer wants. It demands knowing who you are and what you
stand for. It also requires knowing your competition.

What Makes You Special?
Every person--every company--has unique skills, talents and
potential to bring to the marketplace. It's critical you
discover what these are.

What special results can you deliver? How can you do it
differently? What added value can or could you offer?

Get your staff together and brainstorm this question. Dig deep.
Don't accept the easy answers. And keep digging.


What Do Your Customers Really Want?
You might think you know what your customers and potential
customers need, and you might even be right. But what do they
actually WANT?

Visitor only for $0.01. Try our pay per click search engine. The cheapest on the market. Start here..

Spend time talking with your clients. Do surveys. Make it easy
for your customers to share their ideas, problems and
dissatisfactions. Listen to them.

The problems they bring up--ones they have in general and ones
they have with you--are golden opportunities to help you craft
your unique selling proposition and deliver exceptional service.

How Can You Deliver Your Uniqueness in the Best Way?
How can you do it faster or better? How can you make it easier
to use your product or service? How can you make it less
expensive? How can you make your product/service one-of-a-kind?
How can you help your customer feel more special? How can you
make your product feel exclusive? How can you be more
responsive?

What can you add to what you sell that would cost you little or
no money but add real and perceived value?

Visitor only for $0.01. Try our pay per click search engine. The cheapest on the market. Start here..
Explore other industries and think about ways you can implement
strategies or services from other trades into YOUR trade.

Perhaps one of the best questions to keep in the forefront of
your mind is IWWCI (In What Ways Can I) increase the value of my
product/service to my customers? I have an entire notebook
devoted to just this question. I'm constantly looking for ways
to provide more value to our members. I sit down with it often
to review my notes and add ideas.

Doing things differently is worthy of your attention. And it's a
process that is never complete. It should be constant and
never-ending.

It's also a lot of fun. It will keep your creative juices
flowing. It will sharpen your thinking and increase your energy.
And it will make you more profitable while giving greater value
to your customers.

ABOUT THE AUTHOR:
Copyright Michael Angier & SuccessNet. Michael is the author of
'101 Best Ways to Get Ahead'. SuccessNet's mission is to inform,
inspire and empower people to be their best--personally and
professionally. Download your fr-ee report "10 Essential Keys to
Personal Effectiveness" at http://SuccessNet.org/subscribes.htm
. Explore their free access, memberships, eBooks and SuccessMark
Cards at http://SuccessNet.org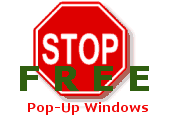 Adlandpro Toolbar gives you instant access to your Free Email Account, Free Website, submission to over 8,900 sites, learning tools, free discussion list on marketing and promotion with 26,000 subscribers, Free 5 day Website Success course by email, plus instant search. Click Here.