How To Actually "Make Money" In Internet Marketing
©2005 by Willie Crawford



I did a survey this week while applying to a program sponsored
by Jay Abraham. The very detailed survey/questionnaire got me to
thinking more about my business model. It's changed over the
years as on-line and email marketing have changed.

Since I test constantly, and adjust to my test results, I
thought I'd share parts of my business model... but not my
numbers... with you ;-) Maybe it will give you some ideas you
can use.

Like many "Internet marketers" I believe that the money is
in the list. The only problem is that it's getting harder and
harder to maintain contact with that list. Still, I publish
a number of ezines and courses as a way of building relationships
with my lists.

When I first started publishing in 1997, it was fairly easy
to get new subscribers just by asking them to join your list.
There are so many lists today... many of them nothing more
than advertising... that you have to really sell people on
the "value" of your list. That's the biggest change I've
noticed for people just starting to build a list.

Over the years, I went from leading with my free ezine, to
leading with my free Internet marketing course. This is a
20-lesson course, offered via email from my homepage at
http://williecrawford.com/ I lead with the course because it
has a higher perceived value and actually sells many people
on joining my ezine list later. They're prompted in the
lessons to sign up for the ezine :-)

I'll let you in on a secret here. About 2 years ago, one of
my mentors suggested that not everyone wanted to wait 10 weeks
to get all of the lessons in my course. He suggested also
offering the course in ebook format, and charging a nominal
fee. I implement that... and went one better, offering the
deluxe and super-deluxe versions of the course (on CD and in
print format). Naturally, I piled on a few bonuses with the
upgrades. That worked great creating a revenue stream from
something I had previously been GIVING away.

If you'd like to check out how I've implemented my
premium podcasting model, you can check it out at:
http://williecrawford.com/premium-podcast.html This very
simple webpage shows you how I've set it up.

If you'd like to know more about the premium podcasting
service I use to run the whole thing, check out:
http://williecrawford.com/profitable-podcasting.html

If you aren't listening to podcasts yet, you're missing a
lot of good stuff. You can download tons of recorded
broadcasts and then listen to the MP3 at your convenience.
I mentioned iPodder earlier because it's the free software
that I downloaded and installed on my laptop. It works
beautifully. You can grab it at:
http://ipodder.sourceforge.net

A big part of my business model is setting up things that
offer recurring income. That way, you do the work once
and get paid for a long time. That's the idea behind the
premium podcasting service... although I do have to
continuously create new recordings. However, I don't need
to constantly chase after new customers. The service that
I use will actually drive customers to me. Word of mouth
also generates a lot of new customers.

Other low-cost tools I use to build relationships with
my customers include my discussion board, and my blogs.
The blogs are an excellent way to get information out without
having to contend with email. The blog posts are syndicated
as RSS feeds. Lots of visitors have subscribed to my RSS
feed. Just as important, lots of websites have subscribed
to my RSS feeds and integrated my content right into their
websites. This is a great way of getting new customers by
having other webmasters indirectly endorse you. If you'd like
to see how I've implemented my blogs, you can check out the
"Internet marketing" one at http://williecrawford.com/blog/
While we're on getting endorsements from others, writing
articles and allowing them to be published on others
websites, in their ezines, and in their ebooks works great
at attracting customers. Getting your articles on others
websites is also a GREAT way to get one-way links pointing
to your website. That's why I've written over 350 articles
over the years. They can be as simple as this one, which
will undoubtedly appear on hundreds of websites eventually.

Back to the recurring income... another proven part of my
model is a membership site. Membership sites can be low
maintenance, and produce tremendous customer loyalty. Mine is
fairly simple. It's a collection of software, ebooks, and
MP3 recordings relevant to internet marketing. Many of the
recordings and ebooks are one of a kind, and that's my
edge over other membership sites. That's the secret... the
easiest way to distinguish your membership site is to make
it unique. The easiest way to do that is to produce, or have
produced, your own unique content.

So there's a quick "down and dirty" on the revenue model
that has proven to work for me. On the backend I do upsell
from inexpensive ebooks, to course, to video products, to
live seminars, to personal coaching and consulting. It's
really fairly simple.

I'll end by pointing out that one success factor most
struggling Internet marketers seem to miss is that
exclusivity or uniqueness is often what makes an item sell.
Even if you're marketing something sold by tens of thousands
of others, find a way to make it unique and you'll do well.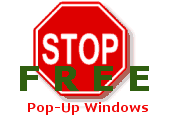 Adlandpro Toolbar gives you instant access to your Free Email Account, Free Website, submission to over 8,900 sites, learning tools, free discussion list on marketing and promotion with 26,000 subscribers, Free 5 day Website Success course by email, plus instant search. Click Here.