What a Waste
©2005 by Bob Osgoodby
It never ceases to amaze me. People join a program in the hope
of making some extra money, and just don't seem to do anything
right. Now, think about it.

They join an opportunity program, have to plunk down some of
their hard earned money and don't advertise it - what do they
expect - the world to beat a path to their door. If they do
advertise, they use the same tired old ad that others in the
same program use. What makes them think they will come to them
instead of one of the thousands of others using the same ad?
They submit this ad to free ad publications or web sites, wonder
why they don't have to buy a wheelbarrow to carry the orders in
from their mailbox, and lose heart.
If you are placing an ad for submission on a web site - follow
the directions. The majority of people who submit an ad to our
site don't - guess what - their ad is lost in the gaggle of
other ads submitted. If however they do, their ad will have
bold headlines and clickable links and will stand out from the
others.

Let's face it - people are lazy - if they can directly click on
a link, the odds are they will - if you make them jump through
hoops - the odds are they won't. More work for you - sure - but
you are the one trying to make a buck. If you're lazy as well -
you won't.

And for goodness sake - test your ad - make sure the URL is
correct and your email address is as well. I just can't believe
the number of ads submitted with incorrect information.

Here's one I get a real kick out of - because of all the spam
they get, they decide to protect themselves, and subscribe to a
spam filter such as "Spam Arrest". These "protection" programs
require you to visit a web site and verify that you are a "real
person". Well guess what gang? Most people can't be bothered
and you will not get their business.
It is a proven maxim that people seldom buy on their first
exposure to an ad. Repetition here is key. If you are going to
advertise, you must be in their face on an ongoing basis. An
occasional ad here or there simply doesn't work.

On our web ads, we require that someone renews their ad each
week - why, you might ask. Why don't you just leave the ad there
indefinitely? The answer to that is simple. If an ad is renewed
each week, they are still in business. Isn't it frustrating to
do a web search and find that the web site no longer exists.

If someone takes a moment or two to renew their ad, it does
build a level of trust with people looking for your product or
service. If they see the same ad week after week, they just may
choose to look further.

Are some people lazy - you bet! Are some people stupid - most
likely! Are some people just inexperienced in the intricacies of
the web - no doubt. But all of these people have something in
common - they have disposable income. If you don't make it easy
for them, you are simply wasting your time, and they will
dispose of it someplace else.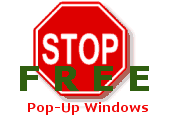 Adlandpro Toolbar gives you instant access to your Free Email Account, Free Website, submission to over 8,900 sites, learning tools, free discussion list on marketing and promotion with 26,000 subscribers, Free 5 day Website Success course by email, plus instant search. Click Here.