The Incredible Image, 8 Steps to Put Your Business' Best Foot Forward
©2005 by Eric Gelb, MBA & CPA
Look into the mirror? Do you see your image--the You that others
see?

Image counts Big-Time in today's super - competitive and
demanding world. But the secret to developing a strong brand
identity is to crystallize--in your target market's mind and
heart--the image you want to convey, and broadcast that message
actively and consistently.

For example, how do you and your team treat your customers? Is
your service somewhat like this?

** Pens & Pencils and High Finance **

Some months back, I met with my financial advisor from
Insurance Company named Pete. Pete sported a 79¢ pen and his
$4.99 solar Calculator - standard issue. Ugh.
1. Decide what message you want to send your customers and
the image you want to display.

2. Figure out what's important to your customers and then
design or redesign your image.

3. Study how other leading organizations, including your
competitors, broadcast their message. What do they say?

4. Select the optimal way to broadcast your message and
present your image.

5. Make Sure your actions consistently and continually
Enhance your image.

6. Analyze whether any of your actions Detract from your
image and make changes.

7. Analyze whether your actions, business cards, web Site,
e-mail sig (signature) files, brochures, letters, etc., are
consistent with the image you want to broadcast.

8. Make sure your marketing programs are consistent from
start to finish—Internally and Externally--and consistent with
all your other business activities and initiatives.
And consistent with your customers' expectations.
Truth IS stranger than fiction. So remember, every marketing
and promotion activity, every effort, etc. can make a difference.

Even a small yet novel approach, special trait, or standout quality
will help you create your own distinctive brand and enhance Your
Incredible Image, which in turn will set you ablaze in your marketplace.
Then you'll truly multiply your business fivefold, tenfold or more.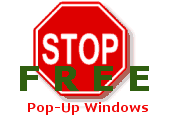 Adlandpro Toolbar gives you instant access to your Free Email Account, Free Website, submission to over 8,900 sites, learning tools, free discussion list on marketing and promotion with 26,000 subscribers, Free 5 day Website Success course by email, plus instant search. Click Here.