Holiday Scams
©2005 by Bob Osgoodby
I got a phone call the other day from a Sergeant Harris who said
he was calling from the Police Department. He said he was
soliciting funds for the PBA (Police Benevolent Association) to
buy gifts for needy children. Now most of us know that the PBA
is a reputable organization, and provides great support for our
Law Enforcement Employees.

Something just didn't ring true however, so I told him I
couldn't talk as I was busy, but to call back later. I then
called our local Police Department and asked if this was on the
up and up. I found out that there is no Sergeant Harris in our
Police Department, and there was no fund raising activity taking
place at that time. He never called back.

This is just one of the many scams being perpetrated and I
thought it might be appropriate to review some of the others we
face every day on the Internet. Con artists have gone high-tech
and are using the Internet to defraud consumers in a variety of
clever ways.
M-L-M Scams and Pyramids have been around a long time. They
promise that you can make money through the products and
services you sell, as well as those sold by the people you
recruit into the program. Many have found that after they've
bought into a plan or programs, that in reality, their customers
are other distributors, and not the general public. Some
programs are actually illegal pyramid schemes. When products or
services are sold only to distributors like yourself, there's no
way to make money. You should avoid plans that require you to
recruit distributors, buy expensive inventory or commit to a
minimum sales volume.

Travel and Vacation plans offer a luxurious trip with lots of
"extras" at a bargain-basement price. Some companies however,
deliver lower-quality accommodations and services than they've
advertised or no trip at all. Others have been hit with hidden
charges or additional requirements after they've paid. You
should always get references on any travel company you're
planning to do business with. Then, get details of the trip in
writing, including the cancellation policy, before signing on.
Many of these cruise ships are of foreign registry, and you may
not have legal recourse if they don't deliver.
Business Opportunities - Be your own boss and earn big bucks.
Most of these make extravagant offers, and if it sounds too good
to be true, it most likely is. The same applies to investing in
a day trading system or service that promises huge earnings.
Big profits always mean big risk. Programs that claim to be able
to predict the market with 100 percent accuracy should simply be
avoided. Be wary of extravagant claims about performance or
earnings potential. Get all promises in writing and review them
carefully before making a payment or signing a contract.

Read the fine print and all relevant links. Fraudulent promoters
sometimes bury the disclosures they're not anxious to share, by
putting them in tiny type or in a place where you're unlikely
see them. Look for a privacy policy. If you don't see one - or
if you can't understand it - consider taking your business
elsewhere. Be skeptical of any company that doesn't clearly
state its name, street address and telephone number.

Can you avoid getting caught by a scam artist working the web?
Not always. But prudence and due diligence usually pays.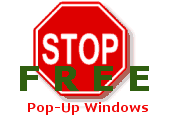 Adlandpro Toolbar gives you instant access to your Free Email Account, Free Website, submission to over 8,900 sites, learning tools, free discussion list on marketing and promotion with 26,000 subscribers, Free 5 day Website Success course by email, plus instant search. Click Here.