A Caring Attitude
©2005 by Bob Osgoodby
I recently had a problem, and called my ISP (who shall remain
unnamed) for help, because I could not connect to their service.
I let this ride for a day, in the event they were having a
problem, but the next day when I still couldn't get connected, I
gave them a call.

After listening to their computerized message, which told me
everything except how to brush my teeth, I finally selected the
appropriate option. I was given the approximate hold time,
(which I appreciated) put them on the speaker phone and went
about other things I was doing.
Two days came and went with no call back, and I figured #1 and
#2 didn't really know what they were doing so I tried again.
This time I got a very pleasant person (#3) who took the time to
listen to my problem, and she solved it "lickety split". She
not only solved the problem, but displayed a real caring
attitude which the previous two did not.

Now, it seems that many companies staff their customer care
department with warm bodies, give them a trouble shooting book
(you can hear them turning the pages) and then try to get rid of
you as quickly as possible so they can handle their next call.
This never ceases to amaze me. They spend millions on
advertising their service, send out trial CD's by the train load
(you know who I mean), and then staff their primary customer
contact, with incompetents or people that don't give a fig about
problems their customers are having. It seems that they really
don't care if they lose a customer.

If you are in business, either you must be a #3 or have one
working for you. Never forget - the sales department gets
customers, but the customer service department keeps them.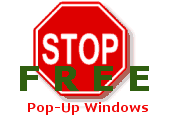 Adlandpro Toolbar gives you instant access to your Free Email Account, Free Website, submission to over 8,900 sites, learning tools, free discussion list on marketing and promotion with 26,000 subscribers, Free 5 day Website Success course by email, plus instant search. Click Here.