Mr. Monopoly Got It Wrong: Cooperation Makes More Money Than Competition
©2005 by Kalinda Rose Stevenson, Ph.D.
Monopoly is a zero sum game based on competition.
Since the money supply cannot increase, the players
can win only by taking money from other players. The
fundamental belief behind Monopoly is lack of money.
This means that the only way to get more money is to
take it away from others.

This zero sum competitive game reflects the economic
realities of the Great Depression. While thousands
stood in breadlines, a handful made fortunes. For
one to player to win, the others must lose.

The rules of the Monopoly prohibit partnership. You
cannot create joint ventures. You cannot loan money
to another player. You cannot borrow money from
another player.

The psychological effect of playing this highly
competitive game is that you are a solo player doing
whatever you can to force the other players to go
bankrupt. The last thing you want to do is to help
someone else stay in the game because that person
might go on to drive you out of the game.
As a success model, what is the effect of a game
based on competition for a limited money supply? You
don't have to look any further than the statistic
that 96% of the population will reach 65 without
enough money to be financially self-sufficient.
Instead of congratulating the 4% who somehow manage
to create financial freedom for themselves in this
economic system, you need to ask, "What is wrong with
the game? Why do so many lose?"
The short answer is that our economic models teach
competition for limited resources as the foundation
of wealth. The model itself demands that almost
everyone must end the game broke.
What happens when you attempt to create wealth in
business according to Monopoly Money Rules? It's a
highly competitive game and a lonely struggle. You
use your own money and do it alone. Will you
succeed? Maybe. You might be one of the lucky few
who manage to do it all yourself. More likely, you
will end up as one of the casualties of those who
tried to start a business but never made enough money
to succeed.

As a model for creating wealth, Monopoly is stuck in
the mindset and money beliefs of the Great
Depression. In the Monopoly game, the winner amasses
money but does nothing to create money through
transactions.
The Great Depression ended more than sixty years ago.
It's time for a new game with a new understanding of
money. The fact is, you'll make more money in
transactions than you will in takeovers. Mr.
Monopoly had it wrong when he thought that winning
meant driving competitors out of business. Yes, I
know. The business world is still full of "black
knights" and hostile takeovers. And sometimes the
worst people seem to win.

When you take off the Depression era Mr. Monopoly
glasses, you can see a new vision of money and
business. Money is not currency. Money is an idea,
and the only limits to money are the limits of your
vision. With this vision, you'll see that you will
make more money in transactions than takeovers. In
this era, the most enlightened business people
understand that you will make more money in joint
ventures with others than you will by competing
against them.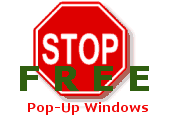 Adlandpro Toolbar gives you instant access to your Free Email Account, Free Website, submission to over 8,900 sites, learning tools, free discussion list on marketing and promotion with 26,000 subscribers, Free 5 day Website Success course by email, plus instant search. Click Here.