Why Don't You Have Ten Times As Many Clients? You Could!
©2005 by Charlie Cook
You know that hundreds, if not thousands, of people want and
need your products and services. You're spending good m0ney on
advertising and mailings and you have a great looking website
up, but you're still not getting all the clients you want or
could handle. Why aren't more people responding to your
marketing?

The most likely reason is your small business marketing
materials aren't answering the q.uestions your prospects are
asking about your goods and services.

Imagine you wanted a new car and walked into by a dealer's
showroom. You spot the sleek looking model youíre interested in
and go over to take a look. It's at this moment that a salesman
walks up to you and introduces himself.

You start asking him q.uestions about what makes this car worth
so much, what it's good for, what features are included,
guarantees, etc. Then you ask him if you can take the car for a
test drive. n0w imagine that the salesman responded to each
q.uestion with a shrug and said, 'You'll just have to buy it to
find out if it is what you want.'

If the salesperson couldn't or wouldn't answer your q.uestions,
you'd most likely walk out and head for a car dealer where they
could give you detailed answers to all your q.uestions.
So what are the q.uestions your small business prospects would
ask if you were meeting with them? What do they want to know in
order to be convinced you can help them?
What are the q.uestions your marketing needs to answer?
What information should your marketing materials give prospects
in order to make a s.ale?

Whether you're marketing a product or a service, your prospects
want to know:

- Who is it for?
- What's the primary problem it solves?
- How will I be better off with it?
- Will it really do what youíre telling me it will?
- What specifically will it do to solve my problem or answer my
concern?
- Is this information for real?
- Is it the newest or latest model?
- Who else has bought it? What did they think of it?
- Why should I trust you?
- Is yours the best company to get this item from?
- Is it a fair value?
- I really want it, but how can I justify spending the m0ney?
- Do I really need it n0w?
- Why should I make this purchase today, or this week?
- How can I make sure I'm not making a mistake?
- Okay, Iím ready to get it, but tell me again why I should want
it?
- If I buy it, how complicated will it be to use? What kind of
help will I get?
- How long will I have to wait to get it?
- Yes, I made the purchase, tell me again why it was worth all
the m0ney I spent?
- I own it, n0w how can I get the most of out it?
Want ten times as many clients? Start by giving your prospects
ten times as many reasons to contact you and buy from you and
you'll see your s.ales soar.

If your small business marketing isn't generating all the
clients you can handle, it's not giving prospects the
information they need to make a decision to contact you or buy.

You can keep using the same small business marketing strategy,
the same marketing materials and the same marketing copy and get
the same results ó or you could discover how to give your
prospects the information they want and see your s.ales
skyrocket.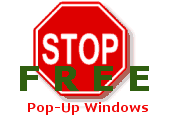 Adlandpro Toolbar gives you instant access to your Free Email Account, Free Website, submission to over 8,900 sites, learning tools, free discussion list on marketing and promotion with 26,000 subscribers, Free 5 day Website Success course by email, plus instant search. Click Here.