Great Lessons Begin Early
©2005 by Gregory Scott Reid
Let me share a quick story about how simple childhood
conversation made an impact on the life I lead today.

During a recent radio interview, the host asked where I came up
with the lessons I shared in my latest book, Positive Impact. My
response surprised even me as I recalled the answer. You see, I
was very fortunate to have grown up with a wonderful role model.
Even when I was a child, my Mother spoke to me on a mature
level, taught me lessons that have lasted and have impacted the
lives of numerous people within my circle.
Kathleen's General Info



Kathleen Gage

1005

Friends
Member since

12/17/2005

Location
Draper, UT, United States
Interests
Internet marketing, motivational speaker, inspirational speaker, professional speaker, authorship, writing, gardening, business, reading, hiking, animals, community involvement.
Company
Street Smarts Marketing
URL
View Street Smarts Marketing's web site
Industry
Home based business, small business, professional speaking, cosmetic dentistry marketing, tradeshows, conferences, conventions, internet marketing, publishing, promotions.
"What?" I belted. "You said I already WAS the leader. You said I
was the boss."

"No," she whispered. "As a leader, you would be willing to do
anything and everything necessary to create success for yourself
and others, no matter what, even if it meant cleaning an office.
Real leaders are willing to chip in and help in any
circumstance. Funny thing," she continued. "If you were that
kind of a leader, more than likely you would never have to worry
about situations like this because others would want to help you
look good."
Even at that young age, I remember having one of those "Aha"
moments when things seemed so clear.
In my adult years, I remember staying at work after hours one
day to clean up a bit and do a little wall painting. A couple of
employees came up behind me and asked, "Why are you doing that?
Shouldn't you hire someone to do that stuff?" Suddenly, the
student became the teacher as I shared the same story with them
that my mom had shared with me. Hours went by as they stayed
behind to help me deck out the office that night, never asking
for a thing in return. One of those people became his own boss,
and now has a company of his own. I often wonder how many people
he's told this story to, along with the other great advice my
mom shared with me over the years.

Well, Mom, for myself and the others whom your wisdom has
affected, I want to say thank you, I love you, and whatever you
do,

Keep Smilin'!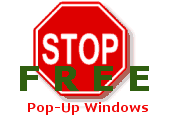 Adlandpro Toolbar gives you instant access to your Free Email Account, Free Website, submission to over 8,900 sites, learning tools, free discussion list on marketing and promotion with 26,000 subscribers, Free 5 day Website Success course by email, plus instant search. Click Here.