Make More Sales By Airing Your Dirty Laundry
©2005 by Clifford Mee
There's an old saying, "Don't air your dirty laundry".

If you're selling any product or service either online or
offline this is horrible advice.

You see sooner or later, your customers are going to find
out the negative aspects of your product. Call it karma if
you like, but they will.

And when they discover it, at the very least you'll lose
credibility, generate higher refunds and lose customers for
life. At the worst your business reputation will get
entirely trashed.

This doesn't even take into account your prospects. If your
product raises objections with actual customers you can be
sure your prospects will pick up on them too.

This is not voodoo. Every point of sale has a vibe. People
pick up things unconsciously. If they get an adverse feeling
then they back out and you lose another sale.

So what's the answer?
Linda's General Info



Linda C.

339

Friends
Member since

9/22/2005

Gender
Female
Age

46

Location
Mississauga, Ontario, Canada
Interests
Marketing, reading, writing, psychology, personal growth, sewing, crafts, natural health
Company
LindaCaroll.com
URL
View LindaCaroll.com's web site
Industry
Profit consultant, entrepreneur, writer
If your product is defective in any way a customer may take
issue with, then bring it up in your sales copy early. You
can even do this in your headline, like I did.

This method kills likely objections dead. And it's these
objections which will lose you customers and sales. You'll
sell far more product if you then reframe any possible
problems as actual benefits instead.

Take a one page unattractive website for instance. Imagine
it has no graphics, bare minimum sales copy and sells an
ebook for $19.

How can this be easily reframed?

You simply point out this non-flashy website allows you to
pass on large cost savings to the customer because you don't
need to hire a copywriter or web designer. That's why the
customer can get the ebook now at $19 rather than the $39 it
would normally be.
You're now providing your prospects with greater value
overall and they will thank you for it with sales.

You could also point out your competitions more flashy more
expensive product. Just ask the customer what's more
important, having more benefits for less money or less
benefits for more money?

They'll quickly agree your product must be better.

This then gets them to agree they should buy your product.

You'll make many more sales airing your dirty laundry
intelligently.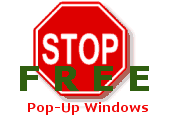 Adlandpro Toolbar gives you instant access to your Free Email Account, Free Website, submission to over 8,900 sites, learning tools, free discussion list on marketing and promotion with 26,000 subscribers, Free 5 day Website Success course by email, plus instant search. Click Here.