Merchant Accounts
©2006 by Linda Caroll

You hear it all the time. You need to take credit cards.

Whether or not that's true depends on what you sell and the risk factor in accepting payment by credit card. If you sell a book or download for less than $20, you absolutely do need to accept credit cards. If you sell $5,000 custom built cabinets, you may not want to, especially if your merchant account provider requires you to confirm shipment before the customer's card is billed.

If you do a search on Google for "internet merchant account,"you'll find that there are about 197,000 sites listed. Those include many, many companies offering Internet merchant accounts, as well as many resellers of those services.

There are Two Types of Merchant Accounts;

Merchant Billing Accounts: When you obtain merchant billing ability, the company assisting you in the setup will acquire merchant status for you. Billing will be done in your name, directly with the issuing bank or credit organization.


Richard's General Info



Richard Mathiason - http://www.rich4life.com/

119

Friends
Member since

1/2/2005

Gender
Male
Age

54

Location
Belen, NM, United States
Interests
Charities, Religious Science, reading, web design, walking, teaching
Company
Veretekk Marketing System | Integris Global
URL
View Veretekk Marketing System | Integris Global's web site
Industry
Network Marketing, Internet Marketing, MLM, Training, Networking, Web Conference

Merchant Account Monthly Minimum; Do ask if they have a monthly minimum. That means if you fail to sell over a certain dollar value, you have to pay a penalty fee. Often times, merchant account providers will offer a low monthly fee (ie; $10) and then whack you with another $15 - $25 if you fail to meet a sales objective.

Merchant Discount Rate; The discount rate is the percentage the provider charges on each sale. For example, if the discount rate offered is 5%, and you receive a sale over your web site for $100, you will owe $5 to your merchant account provider.

Transaction Fee; Some merchant account providers add a fixed fee for each transaction. This fee does not change according to the price of your product. For example, if you have a fixed transaction fee of 50 cents, it does not matter if your product is $10 or $100 -- the fixed amount remains the same.

Refund Fee; Some merchant account providers charge a fee if a customer asks for a refund. This is because they have to do "the paperwork" on the transaction again to reverse it.

Chargeback Penalty: Most merchant account providers charge a heavy penalty if a customer files a chargeback request against your account. Chargeback fees are something you want to avoid, so do attend to all refund requests in a timely fashion to prevent a customer from going to their bank to process a chargeback.

Merchant Account Termination Fee; Some merchant account providers include a snippet in the small print stating that a termination fee can apply if you cancel your merchant account in less than a predetermined period of time. With some merchant account providers, that time period can be up to 3 years.


Other fees; Be sure to ask about each of the above listed fees. Also ask if there are any other fees or hidden fees that are not in the list of fees you asked about. That way, you cannot find any surprises later because you have specifically asked about "any other" fees.
When to head for the hills;

If a merchant account provider tells you that you have to use "their" proprietary shopping cart, and that the cart costs "x" dollars per month, I suggest that you hold on to your credit card and run the other way as quickly as possible.

There are many merchant account providers that are able to connect with a wide variety of shopping carts and ecommerce systems so that you can choose one within your budget. There are many, many, that work with free shopping carts or simple html forms. There are merchant account providers that provide you with a shopping cart and/or forms for processing your orders at no charge.

There are third party merchant providers that provide you with a complimentary shopping cart.

Any merchant account provider that charges you monthly fees, transaction fees, discount rate, and all the other associated charges -- and wants to charge you for a cart, too, is only going to nickel and dime your website to death. That's my opinion, but I base it on what I have seen in the years from 1995 to now.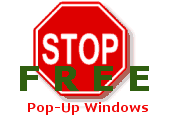 Adlandpro Toolbar gives you instant access to your Free Email Account, Free Website, submission to over 8,900 sites, learning tools, free discussion list on marketing and promotion with 26,000 subscribers, Free 5 day Website Success course by email, plus instant search. Click Here.