Isn't it time you made the income you've always dreamed of?
Of course it is! And here's how: Long-Time Internet Marketing Guru Jim Daniels (the man who helped Bogdan Fiedur, the owner of Adlandpro get his start early in his online business and earn nearly 3 million dollars!) has just released his most powerful CD System yet which will give you the ultimate edge in the world of Internet Marketing.

As a newsletter subscriber, you can get this incredible CD System through this special offer for $30.00 less than everyone else would pay.
Five Ways to Get the Most Out of Your Internet Presence
©2006 by Scott Buresh

1. Track and analyze your web site traffic.

Most web hosts offer traffic analysis data to their clients, and it is arguably the most important tool at your disposal in measuring the effectiveness of your website. By taking the time to understand this data, you can begin to understand the motivations and interests of your audience. Are many of them leaving on one particular page? Perhaps you should make some changes to keep their interest. Are most of them looking at one particular part of your site? Perhaps you should make it a more featured area. Since this data updates on a regular basis, you are also able to gauge the effectiveness of any changes that you make. These are the most basic examples, as there are many more useful bits of information available- what search terms your visitors are using to find you, what sites are bringing you the most traffic, how long your visitors are staying, etc. Maintaining a successful website is an ongoing process, and visitor data is crucial to getting optimum results.
Ron's General Info



Ron

4123

Friends
Member since

1/30/2006
2. Exchange links with non-competing, quality companies related to your industry.

This is a simple but effective way to get quality traffic while increasing the prestige of your business. Visitors that enter your site from a link that they find on another site are predisposed to believe that they will find something of value there (if not, why would the site take the time and effort to link to it?). By making sure that the companies you exchange links with are not direct competitors, you are unlikely to lose business. The added benefit to this strategy is that it can give a tremendous boost to your link popularity, which is a major factor in determining how your site gets ranked in most search engines.
Visitor only for $0.01. Try our pay per click search engine. The cheapest on the market. Start here..
3. Write informative articles about your business or products and make them available to online publications and webmasters.

There are numerous sites that will allow you to offer original informational articles for others to publish. Such an exchange benefits you in several ways. First, all of these sites require anyone who is reprinting your article to provide a link back to your site, which can provide highly targeted visitors (visitors that most likely already have a good impression of you from your article). This is also another way to boost your link popularity, which is vitally important to your search engine rankings (as discussed above). Moreover, if you offer a service, a reputation is your most valuable asset.
Widely distributed articles can help to establish you as an expert in your field and help you to gain credibility with your future clients.

4. Give your website visitors a clear call to action.

If your site isn't intended to sell a product or gain a customer, than what is it for? Every page on your site should focus on getting the visitor to take an action. This could be purchasing something online, filling out a form or sending an email, making a phone call, or even simply moving on to the next step in the process. Your website should be more than a static billboard proclaiming that you are open for business- it should compel your visitors to follow a specific path that leads to a sale. The answer can be as simple as placing a prominent suggestion on each of your pages (such as "Request a Free Demo" or "Ask Us a Question").
Visitor only for $0.01. Try our pay per click search engine. The cheapest on the market. Start here..
5. When it comes to your site, don't overlook the obvious.

Compare your website to an actual store- is everything clean and organized, or is everything messy and cluttered? Many websites give bad first impressions with issues that could easily be avoided. Broken links are a sign of sloppiness that are fairly common. To combat this, there are several websites that will automatically scan your site and identify any broken links. Seeing little red "x's" where a graphic or photo should appear is another common problem that is easily addressed.
Does your site maintain its look and functionality with most browsers? People are sometimes dismayed to learn that their site (which looks great in Internet Explorer) doesn't maintain its look or functionality with other popular browsers such as Netscape. The time and resources required to fix these problems are small when compared with the cost of tarnishing your professional image.
ABOUT THE AUTHOR:
Scott Buresh is co-founder and principal of Medium Blue Internet Marketing. For more helpful tips, visit http://www.mediumblue.com. For a free search engine analysis, please visit http://www.mediumblue.com/analysis.html.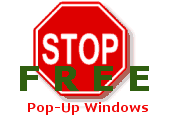 Adlandpro Toolbar gives you instant access to your Free Email Account, Free Website, submission to over 8,900 sites, learning tools, free discussion list on marketing and promotion with 26,000 subscribers, Free 5 day Website Success course by email, plus instant search. Click Here.