Isn't it time you made the income you've always dreamed of?
Of course it is! And here's how: Long-Time Internet Marketing Guru Jim Daniels (the man who helped Bogdan Fiedur, the owner of Adlandpro get his start early in his online business and earn nearly 3 million dollars!) has just released his most powerful CD System yet which will give you the ultimate edge in the world of Internet Marketing.

As a newsletter subscriber, you can get this incredible CD System through this special offer for $30.00 less than everyone else would pay.
Dream Stealers™......... Beware!! They Are Everywhere
©2006 by Patricia Drain

Years ago, I met someone who was my first KNOWN dream stealer. I
had just written my first book and was very protective of it. I
named it, "Hire Me Secrets Of Job Interviewing." I didn't know if
it was well written or would be successful, but that really
didn't matter to me at the time. The sole purpose was to help
people get job offers.

I owned a Recruiting/Staffing firm in Phoenix Arizona. Every
day it was my job to prepare our candidates to interview with
our client companies for new career opportunities. The book had
all the ingredients necessary to show how to get in the game of
interviewing, answer questions that most of our clients asked,
get the job offer, and make a decision.

I didn't market the book or even tell anyone about it. Why??

Because I was so afraid that someone, especially someone in the
same business I was in, would see it and make fun of me for
writing it.

Be careful what you focus on.
James's General Info



Jim Wright

816

Friends
Member since

10/8/2004

Gender
Male
Age

49

Location
Kingman, AZ, United States
Interests
Flying for Fun, Internet Marketing, Antique Vehicle Restorations, Music, Church, Singing, Piano, Bible Study, Trumpet Playing, Brass Ensembles, Hiking, Mountain Climbing, Beach Walking, Listening to Waves Crashing, Watching Arizona Sunsets.
Company
Desert Sun Aviation
URL
View Desert Sun Aviation's web site
Industry
Learjets, Air Ambulance, Executive Charters, Expedite Air Freight, Flight Instruction, Maintenance, Internet Marketing, Health, Wellness, Fitness, Vegetarianism, Home Business.
A couple of months after writing the book the dream stealer
entered my office. She picked up my book and said very
sarcastically, "You have got to be kidding ...YOU wrote a book?"

Embarrassed I said, "Yes, all I am trying to do is help our
clients get a job and to also be aware that interviewing is a
game, so they shouldn't take it personally."

In response, she said, "I am also writing a book about
interviewing. At the present time it is all in my head. It's ok
though because I have a mind like a computer. All the chapters
are compartmentalized, I even have a clear picture of my cover.
I must say however MY book is MUCH thicker than yours and much
"meatier" In fact, I noticed that your chapter on resumes is
just a few pages, mine has over 100 pages so far."

I don't know what came over me but I saw her for what she was in
that instant. A DREAM STEALER, AN INTIMIDATOR, A BULLY.

"You know the difference between your goal and mine???" I said.
Visitor only for $0.01. Try our pay per click search engine. The cheapest on the market. Start here..
"No what?" She replied.

"Your goal is still in your head.....I wrote mine down in the
form of a book."

Sweet revenge.............Is her book done to date........NO!
Did my book get picked up by a major publisher because it was
simple, easy to read, and could help thousands of people get a
job? YES!

I tell you this story because I was reminded just weeks ago about
all the Dream Stealers ™ that have come into my life over the
years. It was on this trip down memory lane that I realized Dream Stealers ™ are everywhere!!! We must be aware and prepared
to run……… not walk away from them. I knew I had to share with
others that Dream Stealers ™ come in all varieties. Teachers,
friends, associates, even family members. They might even tell
you very good reasons why you should listen to them because it is
"for your own good."

My last dream stealer was the force behind this story. Actually
my last dream stealer I actually PAID. That's right I paid him
$1000 to TRY to steal one of my dreams.

It happened in Las Vegas…….
Visitor only for $0.01. Try our pay per click search engine. The cheapest on the market. Start here..
My partner Debbie and I signed up for his seminar, paid our
money, got on a plane, checked into a hotel, took a cab to his
event and proceeded to have a dream stealer tell us what we
can't, shouldn't and couldn't do.

When we decided to walk out on his training session after
identifying him as a dream stealer we asked for our money back.
(something neither of us have ever done in our lives) We were
very uncomfortable with the situation but we promised each other
that as soon as we got the money we would both buy items that
would remind us of future Dream Stealers ™.

Debbie bought a small but perfect diamond that would remind her
not to let ANYONE take the "twinkle" out of her dreams. My
reminder was the famous BOSE ear phones that would remind me
NEVER listen to ANYONE who tries to steal your dreams through
intimidation or wrong information.

If either of these stories rings a bell for you or reminds you of
any of the Dream Stealers ™ that have been in your life so far, or
are about to appear, get a reminder that works for you. A
reminder that will help you become aware everyday.

Then

GO FOR YOUR DREAMS
ABOUT THE AUTHOR:
Patricia Noel Drain is the co-founder of MAXIMIZING SUCCESS, INC.
The next Life changing Wealth Building Bootcamp will be held in
Phoenix AZ Oct 28-30 2005. For more information go to
http://www.maximizingsuccess.com and tell them Patricia sent you.
Ms. Drain is an international author and speaker living
in Arizona. Visit her online at http://www.buildagreatbusiness.com
and http://www.patriciadrain.com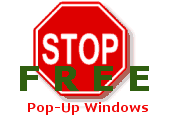 Adlandpro Toolbar gives you instant access to your Free Email Account, Free Website, submission to over 8,900 sites, learning tools, free discussion list on marketing and promotion with 26,000 subscribers, Free 5 day Website Success course by email, plus instant search. Click Here.