Isn't it time you made the income you've always dreamed of?
Of course it is! And here's how: Long-Time Internet Marketing Guru Jim Daniels (the man who helped Bogdan Fiedur, the owner of Adlandpro get his start early in his online business and earn nearly 3 million dollars!) has just released his most powerful CD System yet which will give you the ultimate edge in the world of Internet Marketing.

As a newsletter subscriber, you can get this incredible CD System through this special offer for $30.00 less than everyone else would pay.
How Your Habits Control Your Business Success
©2006 by Rose Hill

Habit: A consistent behavior you perform so frequently that it is automatic.

For example, if you learned to drive a car with a standard transmission, the first few lessons were pretty jerky while you learned to synchronize the clutch with the accelerator pedal. If you released the clutch too fast, the car would stall. If you pressed the accelerator too fast without releasing the clutch, you raced the engine but you and the car were still sitting there! However, with practice, practice, and more practice, you learned to synchronize control of the clutch with control of the accelerator so that you don't even think about it any more. It is now a habit.

All habits consist of knowledge combined with skill from practice. What all this means is that you can learn new habits to replace those that are no longer working for you. You have to change what you're doing, how you're doing it, and the choices you make in order to change your business results.

If you keep doing what you've always done,
you'll keep getting what you've always gotten.
Venerina's General Info



Venerina

1430

Friends
Member since

4/19/2006

Gender
Female
Age

38

Location
Funchal, Madeira, Portugal
Interests
Internet, Writing, Business, Marketing, Reading, Personal development, People & Global Cultures.
Company
VC Designs
URL
View VC Designs's web site
Industry
Business Consultancy, Costume Jewellery Design & Creation, Import & Export, Holistic Health Care, Psychology and social relations.
That means that if your business is not headed in the direction you desire right now, you must make new choices and start new habits to ensure you ultimately get the results you want.

Your choices of habits, determine your success.

That may seem harsh to you. Especially if you'd like credit for having "Good Intentions." The fact is that your intentions, however good, are immaterial until they are supported by your behaviors. In fact, good intentions that are not actualized will drain you of the energy necessary to take effective action. Remember, the only question of significance is "What's working and What's not?"

Every habit has its consequences. Habits that are working for you create positive consequences; habits that are not working for you create negative consequences every time. You may not like that your habits create consequences but you'll still receive those consequences just the same. Whether or not you like it isn't a factor. The fact is that as you keep on repeating a behavior you will get repeatable, predictable results.

Up to 90 percent
of your current behavior
is based on habits.
Visitor only for $0.01. Try our pay per click search engine. The cheapest on the market. Start here..
By and large, these habits work for you. They save you from the tedium of having to make new decisions each day. Wouldn't it be boring and a waste of energy if each day you decided to brush your teeth, but then had to decide where, with what toothbrush, with what of the 100's of toothpastes now available, for how long, with what type of action on the toothbrush, and so forth. It's much easier to go into automatic and let your neural net take charge freeing you to plan for that important meeting with your big client at 2 PM.

Habits are part of being human; we all have them. We use them to conserve energy and effort; to provide familiarity/security; to free up energy for other things; to improve and fine-tune our skills; and to assist in avoiding physical and/or mental pain. Often, a particular habit can lose its usefulness. Yet, because we are human we tend to continue the habit, knowingly or unknowingly. Only with awareness and a strong reason or motivation to change can we initiate and sustain change.

Habits tap into the nearly human obsession to be (and to appear) consistent with what we have already done. Once we have made a choice or taken a stand, we encounter personal and interpersonal pressures to behave consistently with that commitment. For good or for ill, the drive to be (and to look) consistent constitutes a highly potent weapon of change.

To understand why consistency is so powerful a motive, it is important to recognize that in most circumstances consistency is valued and adaptive. Inconsistency is commonly thought to be an undesirable personality trait. The person whose beliefs, words, and actions don't match may be seen as indecisive, confused, two-faced, or worse.
Visitor only for $0.01. Try our pay per click search engine. The cheapest on the market. Start here..
On the other side, a high degree of consistency is normally associated with personal and intellectual strength. Certainly, then, the personal consistency brought by habits is highly valued because it provides us with a reasonable and gainful orientation to the world. Most of the time we are well served by habits... without them our lives and our businesses are difficult, erratic, and disjointed.

By superimposing a new habit on top of an existing habit, you can create a new way of doing things. In other words, you start replacing old negative habits with new positive habits.

For example, if you always show up late for meetings, your stress levels are probably high and you feel unprepared. To improve this you might decide to develop a new habit of arriving five minutes early for every appointment, including meetings. If you take on this challenge you might notice:

• The first month or so of the new behavior is tough. In fact, you'll find yourself reverting to the old behavior during times of stress or unawareness this is normal because it is in compliance with our need to be consistent with our prior behavior. However, don't resort to self-recriminations for the backsliding. Just pick yourself up and recommit to the desired new behavior!

• The more you activate the desired new behavior, the easier it becomes. Eventually, it will be become just as strong as the old habit you are replacing then it will supersede the old behavior. Employ the principle of consistency to help you build your new habit.

By systematically replacing your negative habits with new positive habits one at a time you can dramatically change all aspects of your business.
ABOUT THE AUTHOR:
Rose Hill is the Founder and Owner of SoloBizVille and the SoloBizU community — She specifically designs programs to help jumpstart solo entrepreneur's business success. Learn more at www.SoloBizVille.com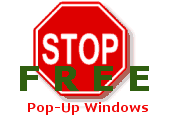 Adlandpro Toolbar gives you instant access to your Free Email Account, Free Website, submission to over 8,900 sites, learning tools, free discussion list on marketing and promotion with 26,000 subscribers, Free 5 day Website Success course by email, plus instant search. Click Here.