©2007 by Dave Turner

Years ago, when the Internet was really in its infancy, some brilliant person created the myth that the secret to success on the Internet is to give everything away for FREE!

The original theory behind this myth was that people on the Internet wouldn't be willing to pay for information, so by giving away the farm, you'd attract a ton of visitors to your website and thus make a killing from all the advertisers who would be clamoring to put their advertising message in front of all those eyeballs.

There's only one problem with that theory. It's not true. Yahoo discovered that the hard way. So did Encyclopedia Brittanica. Yahoo made the correct adjustments and is doing quite nicely, thank you. The verdict is still out on Encyclopedia Brittanica.

The point is, you just can't give everything away for free. It's just not good business! And its been proven, many times over that people will pay for information, just like they would anything else. And that includes ezines and newsletters!

So, what's wrong with depending on advertising revenue?

Simple. Give people what they want! Provide plenty of good, quality, free content on your website and refresh it regularly.

What's free content?

Well, free content can take on many forms, from e-books to free advice and everything in between. However, what I'm talking about is free content in the form of articles.

But they shouldn't be just be any kind of articles. The articles should closely match the theme of your website. For example, if your website's theme is about Internet marketing, then you would have articles relating to advertising and marketing. If your website's theme is about pets, then you would have articles relating to the health and care of pets, and so on and so forth.

So, where do you get free articles?

Well, you could always write your own. It's really not that difficult. However, if you find writing your own articles too daunting a task, there are a million places on the Internet that can provide you with free content. Here are just a few:

http://www.ezinetrendz.com


http://www.freesticky.com


http://www.ideamarketers.com


http://www.isyndicate.com


http://www.marketing-seek.com


http://www.findarticles.com

Also, capture your visitors names and e-mail addresses. How? Start your own weekly, monthly, bi-monthly or quarterly ezine or newsletter and ask your visitors to subscribe.

Since people rarely purchase anything the first time they visit a website, capturing their names and e-mail addresses will give you countless number of opportunities to keep your name and the name of your business fresh in your customers and prospects minds.

And don't be afraid to have a fee-based ezine or newsletter. Remember, the true value of anything is in the eye of the beholder!

By giving before you take, you'll put your visitors in a much better frame of mind to receive your offer. And that is good business!

Til next time...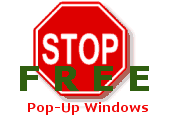 Adlandpro Toolbar gives you instant access to your Free Email Account, Free Website, submission to over 8,900 sites, learning tools, free discussion list on marketing and promotion with 26,000 subscribers, Free 5 day Website Success course by email, plus instant search. Click Here.