Isn't it time you made the income you've always dreamed of?
Of course it is! And here's how: Long-Time Internet Marketing Guru Jim Daniels (the man who helped Bogdan Fiedur, the owner of Adlandpro get his start early in his online business and earn nearly 3 million dollars!) has just released his most powerful CD System yet which will give you the ultimate edge in the world of Internet Marketing.

As a newsletter subscriber, you can get this incredible CD System through this special offer for $30.00 less than everyone else would pay.
Are Online Marketers Missing The Boat?
©2007 by Sharon Fling

I was chatting with someone the other day about my favorite subject -- online promotion of local business -- and he said something that made my ears perk up.

"What about the other way -- Internet companies using offline promotions to grow their enterprises and drive traffic to their sites? Why aren't more internet marketers doing THAT?"

I had to admit I didn't know. Since much of my target audience is offline, there's no way I can limit myself to online marketing only. But what about the vast majority of online businesses? Are they doing the same thing brick-and-mortars are doing -- but in reverse? Are they ignoring the
offline world the way that some local businesses ignore the Internet?

It reminded me of an exchange I had a few months ago with Martin Avis, of Biz Ezine (http://www.bize-zine.com).
David's General Info



Me

1618

Friends
Member since

2/5/2005
Martin's opinion was that local marketing should be of great interest to all kinds of marketers as well as web site designers and consultants.

"For that reason," Martin said, "I believe that you can market to any online marketer who has an element of local business in their portfolio. And at the moment, that is any online marketer with an ounce of common sense!"

Well. When you put it that way, Martin...

I tucked this nugget away and carried on, still focused on reaching those elusive small business owners in the outside world.

But when the subject came up again last week, it got me to thinking. How many online marketers are maximizing advertising dollars by integrating online and offline promotions?

I know it's hard to believe, but not everybody is online 16 hours a day, visiting websites, reading ezines and hanging out on discussion boards. In fact, a lot of people still don't have computers. Gasp! Can you imagine?
Visitor only for $0.01. Try our pay per click search engine. The cheapest on the market. Start here..
It's not a coincidence that some of the most successful online businesses were promoted largely via traditional media advertising such as newspapers, radio, and TV.

Even Amazon, the king of books online sales, is doing offline promotions such as catalogs and print ads. And how many hundreds of AOL CDs have you received in the mail? Google, eBay, Match.com, Monster.com, Yahoo! -- they all do some form of offline advertising and promotion.

Now, you may not have "Yahoo!" money, but there are plenty of CHEAP ways of driving offline traffic to your online site.
Visitor only for $0.01. Try our pay per click search engine. The cheapest on the market. Start here..
As a matter of fact, they are much like the methods you'd use to drive offline traffic to your local site: your URL everywhere, word-of-mouth, press releases, free publicity from being mentioned in a local newspaper or TV news program, license plate frames, postcards (which can be
handed out like business cards at local events and trade shows), promotional items, networking, small print ads that include your URL .... the list is ENDLESS.

Bottom line: the more people you expose to your product or service, the more business you will get. If you want to reach the maximum number of people, you must promote your business both online AND offline. There are too many people that are in only ONE of those places. Can you really afford to ignore so many potential prospects and customers?
ABOUT THE AUTHOR:
Sharon Fling is the author of "How To Promote Your Local Business On the Internet", and creator of GeoLocal.com, the web's largest resource for using the Internet to promote small local business online. Visit www.geolocal.com and subscribe to GeoLocal's free Tip of the Week.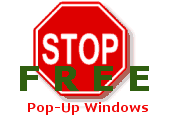 Adlandpro Toolbar gives you instant access to your Free Email Account, Free Website, submission to over 8,900 sites, learning tools, free discussion list on marketing and promotion with 26,000 subscribers, Free 5 day Website Success course by email, plus instant search. Click Here.