These LESSONS are just a few examples I have learned in my experience of marketing on the internet. If you want to succeed, you need to take a chance and invest a little to gain a lot. NOTHING worth while is for FREE. Take these Lessons into consideration and increase your marketing potential a little at a time by taking advice of others who are succeeding in the Marketing World. With a lot of work, effort and dedication, with an open mind and willingness to accept help, you will SUCCEED.

One of the biggest problems we face on the internet when marketing is finding the best source of advertising and generating HITS to your site. Not only HITS alone, but sales.

ADVERTISING
When I first started advertising on the internet, I spent numerous hours a day placing ADS at FREE Sites. I guess it is obvious that I wasted valuable time. I added my site to classifieds with 1000's of others hoping people would see mine before anyone else's. I lived in illusion and quickly found out it was not the answer. I shortly learned that I needed to try out the waters, do all kinds of advertising like; Newsgroups, Ezines, low-cost paid ADS, like in AOL and Excite. I write Articles and Publish an Ezine. And I always keep in mind, that I am also a consumer and need to see my site from a consumers point of VIEW. It has helped me a great deal. I am constantly trying various ways of advertising and with each source I use a different AD so I can track where most traffic is coming from. My personal favorites are the EZINES and also the Newsgroups. They are easy to use and very profitable.
EMAIL
Spamming is a very touchy situation. A friendly email can turn out to be a fury fight. A lot of people don't even read an email and will reply screaming in your face about spamming. I used to get so upset about this. But I have learned my lesson well. Let me put it to you this way, I find my targeted market, which in my case, are people who already have their own business, and I send them an invitation to visit my site to research FREE Reports and Articles that will help them in increase their business potential. I am NOT selling anything, and I am NOT soliciting. WHY? Because I always have a way for these people to be removed from my list. This is assistance for Business Entrepreneurs, and I am not trying to sell anything. This is one way I Network my business. Yes, I still get a few nasty emails sent back to me and I remove them promptly, but these people are just refusing FREE help.

WEB SITE
Now that we know how important a Domain Name is, we also have to realize how important the contents and view of your Web Site is. One thing I cannot stand in web sites is BRIGHT colors and neon signs. I can tell you for a fact that the majority of people looking at sites will tell you the same thing. KEEP IT SIMPLE! Use Warm Colors; black is the most common or a smooth green or browns and beiges. A nice textured background with some subtle graphics will be the best thing you could do for your web site. Just recently I was looking for some helpful tips on Logo's, and I was at the Search Engines. If I entered a site where the
colors were bright, I exited right away. If I entered a site that was confusing with tons of information on the first page, I exited. I like an easy to navigate page. A nice description, with a way to get the information I need. My lesson is that TOO much information at once is NOT a good thing. Have your main web page as a navigation guide for people, with a brief description of your site. People will find it a lot easier and will with no doubt bookmark your site for future reference.

I am sure with all the lessons to be learned on the internet, it will take a book to show you all of them. These are very important aspects to learn. We are all here for one reason only, to make a success of our business. Take these lessons into account and please email me for any further guidance at: sales@marketingtrendz.com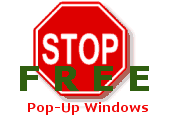 Adlandpro Toolbar gives you instant access to your Free Email Account, Free Website, submission to over 8,900 sites, learning tools, free discussion list on marketing and promotion with 26,000 subscribers, Free 5 day Website Success course by email, plus instant search. Click Here.