Habits tap into the nearly human obsession to be (and to appear) consistent with what we have already done. Once we have made a choice or taken a stand, we encounter personal and interpersonal pressures to behave consistently with that commitment. For good or for ill, the drive to be (and to look) consistent constitutes a highly potent weapon of change.

To understand why consistency is so powerful a motive, it is important to recognize that in most circumstances consistency is valued and adaptive. Inconsistency is commonly thought to be an undesirable personality trait. The person whose beliefs, words, and actions don't match may be seen as indecisive, confused, two-faced, or worse.

On the other side, a high degree of consistency is normally associated with personal and intellectual strength. Certainly, then, the personal consistency brought by habits is highly valued because it provides us with a reasonable and gainful orientation to the world. Most of the time we are well served by habits... without them our lives and our businesses are difficult, erratic, and disjointed.
By superimposing a new habit on top of an existing habit, you can create a new way of doing things. In other words, you start replacing old negative habits with new positive habits.

For example, if you always show up late for meetings, your stress levels are probably high and you feel unprepared. To improve this you might decide to develop a new habit of arriving five minutes early for every appointment, including meetings. If you take on this challenge you might notice:
• The first month or so of the new behavior is tough. In fact, you'll find yourself reverting to the old behavior during times of stress or unawareness this is normal because it is in compliance with our need to be consistent with our prior behavior. However, don't resort to self-recriminations for the backsliding. Just pick yourself up and recommit to the desired new behavior!
• The more you activate the desired new behavior, the easier it becomes. Eventually, it will be become just as strong as the old habit you are replacing then it will supersede the old behavior. Employ the principle of consistency to help you build your new habit.
By systematically replacing your negative habits with new positive habits one at a time you can dramatically change all aspects of your business.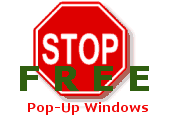 Adlandpro Toolbar gives you instant access to your Free Email Account, Free Website, submission to over 8,900 sites, learning tools, free discussion list on marketing and promotion with 26,000 subscribers, Free 5 day Website Success course by email, plus instant search. Click Here.