2. Don't have people pre-register, fill out lengthy forms, wait
for email confirmation, find their password / user ID and figure
out how to log in again and continue to fill out more detailed
forms and click through a half-dozen pages. Ugh! People want to
shop, buy and go. Period.

3. On EVERY page of your site, shopping cart, receipt and Thank
You or other automated reply, list complete contact information.
Include a specific person to follow up with, business phone
number and postal address (no P.O. Box) and a direct email
address like diana@ohiohelp.net (i.e. not info@ohiohelp.net).
Then if the Internet connection fails, the site goes down or any
number of other technical issues occurs, the shopper immediately
has concrete information for follow up.

4. Set your product order numbers at one (1). In other words,
when someone clicks a purchase button, have the cart say one (1)
item purchased when they preview their cart instead of zero,
making them select "1" again.

5. Include a no-cost gift in the shopping cart, with the receipt
or in the Thank You email, especially with large purchases. Let
your customers know you appreciate their business. And ask for
referrals!

6. Test special product and package prices with offers on a
"Thank You" page or with a "Thank You" email.

7. Accept multiple payment options when possible; credit cards,
faxed and telephone orders, print checks, money orders, echecks
and 3rd party solutions like Paypal. Note: many businesses use
American Express.

8. Choose a progressive shopping cart software solution like
ProfitAuto at http://presssuccess.com/AutoPilot for a variety of
services, pricing packages and options for company growth.
ProfitAuto manages not only the cart but also your leads,
contacts and shoppers with automated "Thank You" follow up. It
also has autoresponders for pre-sale and after-sale
communications, digital tracking and delivery solutions,
importing / exporting of lists and autoresponder series,
electronic coupons, affiliate programs and more.

NO-COST TRIAL AND INFORMATION

For a 30-day no-cost trial of ProfitAuto, sign up online at
http://presssuccess.com/AutoPilot . And download ebooks with
loads of information to help with your business from the
"Freebies" section of the OhioHelp.net bookstore at
http://www.presssuccess.com/bookstore

So tweak your checkout process. Make your clients and your
company happy. And ring up more sales. To learn more top tips and
receive them on a regular basis at no charge in your email, sign
up at http://ohiohelp.net today or email diana@ohiohelp.net .

* From research (Fall, 2001) by Vividence Corporation,
specializing in Customer Experience Management (CEM) products and
services.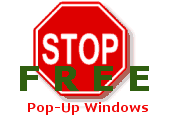 Adlandpro Toolbar gives you instant access to your Free Email Account, Free Website, submission to over 8,900 sites, learning tools, free discussion list on marketing and promotion with 26,000 subscribers, Free 5 day Website Success course by email, plus instant search. Click Here.