Why would you want to hide who owns a domain? Well, whether
you realized it or not, your domain registration records are a
matter of public record. Anyone can go to whois.com and look up
the record for any of your domains. Within that record, is your
address, email address and phone number. This means you are
an easy target for spammers, stalkers, and tele-marketers!
With the domain masking service they see the information for a
proxy service, but you really maintain full control over the domain.

That's digressing a little, but I did want you to know that
services like that exist. If you want to check out the service I set
up for my subscribers and clients, it at:
http://TheRealSecrets.com/hosting/
You are welcome to use it too. My pricing is nearly break-even.
When I factor in all of my overhead, I actually lose a little. If
you're familiar with the law of reciprocity, you'll understand why
I do that.



There are many other similar rip-offs that I teach my clients and
attendees to my workshops about. It's when you're first starting
out that your funds are the tightest. It's also at that time that
you know the least and are therefore the easiest to take
advantage of. Hopefully this article and others I'm writing will
level the playing field. Now you don't need to be an unknowing
victim of rip-offs.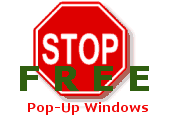 Adlandpro Toolbar gives you instant access to your Free Email Account, Free Website, submission to over 8,900 sites, learning tools, free discussion list on marketing and promotion with 26,000 subscribers, Free 5 day Website Success course by email, plus instant search. Click Here.