It is of the utmost importance to choose an effective autoresponder. An autoresponder should be as personal as possible and send out follow-ups to potential customers since it has been proven that persistence pays off. It could take up to seven contacts before a final sale is conducted. Generally speaking an advertisement should be short and to the point. However, in this case, the customer has asked to see this specific information and therefore an effective autoresponder should allow you to place as much text on the page as you desire. The autoresponder that you choose should provide automatic updates to customers free of charge.

The autoresponder is one Internet marketing tool that will not cost you an arm and a leg. You can get free autoresponders online from several sources. The automatic responses will be a welcome addition to your marketing strategy and will help to automatically increase traffic to your site all while you do nothing. Be sure that the one you choose includes all the extras that will send you site to the top and your profits through the roof.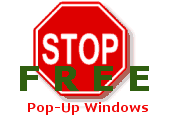 Adlandpro Toolbar gives you instant access to your Free Email Account, Free Website, submission to over 8,900 sites, learning tools, free discussion list on marketing and promotion with 26,000 subscribers, Free 5 day Website Success course by email, plus instant search. Click Here.