Amanda's General Info



Mandy

17

Friends
Member since

8/21/2006


Here's an example – let's say you are running that shoe store we mentioned in the first article. A customer comes to your website, or into your store and doesn't buy first time. However, she likes what she sees, so you give her the chance to be put on your list to receive special offers or news about new lines. She thinks that sounds cool and gives you her e-mail address and in return she gets a free gift of an elegant shoe-horn, maybe.

The same day she receives a friendly e-mail from you saying, "Thanks, it was nice to meet you, did you know we're open late on Thursdays and that privilege customers get invites to special previews of new lines and early admission to the sales?"

A week later, she gets another e-mail telling her what is so special about the 'Fabulous.Range', which is your most expensive line. The e-mail explains how well these shoes are made, how comfortable they are and that there's a new line every spring and fall.

Now you are beginning to plant seeds. She now knows that you are the leading local stockist for 'Fabulous' shoes, and now your store has a bigger place in her mind than your competitor's.

The next week she gets an e-mail reminding her that you always have the full range of ' Fabulous' shoes in all the colours and all the sizes, even halves and you include a discount coupon she can print out at home and bring with her to the store, so that she gets a 10% discount on her next purchase.

In the next part we'll take a look at the result of all this clever activity.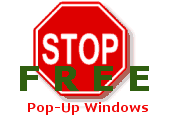 Adlandpro Toolbar gives you instant access to your Free Email Account, Free Website, submission to over 8,900 sites, learning tools, free discussion list on marketing and promotion with 26,000 subscribers, Free 5 day Website Success course by email, plus instant search. Click Here.