You know that next week there is a new range of 'Fabulous' shoes coming in and you want to sell as many pairs as possible. You write a special, one-off e-mail, not part of the ongoing pre-written sequence and you send it to your list as a broadcast, which is a facility provided by all the autoresponder providers I mentioned.

Now, because you are mailing to an eager, 'opt-in' list of people who already like and trust you – your conversion rate will massively outstrip what you might expect from a standard blind mailing. Twenty, thirty even sixty percent conversion rates are not unheard of when the right offer is sent to a well tended list.

So you can see that taking just a little time to gather the tiniest bit of information from a prospect can pay enormous dividends by driving customers directly to purchase. The combination of a strong list and a well planned autoresponder sequence is marketing gold these days. So what's stopping you?

If you want to learn more about autoresponse campaigns and actually see one in action while you learn, then come to my website.

I'll leave you with one small thought. We left our shoe store owner with a great tool for encouraging local customers back to buy from him. But why stop there? E-mail can reach the entire world in an instant. If he had a website and a shopping cart, he could go into the mail order shoe business in a heartbeat and every time he wanted to boost sales he could just send out a broadcast e-mail to his loyal list and they'd be throwing their credit card numbers at him. It's not a big leap is it?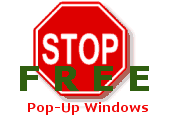 Adlandpro Toolbar gives you instant access to your Free Email Account, Free Website, submission to over 8,900 sites, learning tools, free discussion list on marketing and promotion with 26,000 subscribers, Free 5 day Website Success course by email, plus instant search. Click Here.