Steve's General Info



Enjoying the travel perks in sunny Texas

105

Friends
Member since

2/11/2007

Gender
Male
Age

37

Location
Goshen, IN, United States
Interests
Marketing, Friends, Horses, Photography, Current Events, Shopping, MLM, TV, News, Swimming, Lifestyle, Radio, Direct Selling, Advertising, Wholesale, Vitamins, Dogs, Internet, Biking, Romance, General Health, Movies and Film, Networking, Relaxation, Writing, Music, Nature, Hiking, Cars, Golf, Investing, Teaching, Fitness, Jewelry, Skiing, Camping, Finances, Hardware, Hunting, Travel, Other Sports, Reading, Cooking, Fishing, Self-Development, Male Health, Nutrition, Computers
Company
Your Travel Biz International
URL
View Your Travel Biz International's web site
Industry
Marketing, Other Sports, International, Current Events, Shopping, MLM, Basketball, Bizopp, Baseball, Lifestyle, E-Books, Direct Selling, Audio/Video, Advertising, Wireless, Math, Learning, Internet, Software, Travel, Networking, Writing, Golf, Investing, Teaching, Skiing, Blogs, Finances, Football, Reading, Self-Development, Wholesale, Computers
On a less frightening note, the people who live online would drive from place to place on the busy INTERNET HIGHWAY. They would shout "yahoo" as they passed one another and sometimes slow down to GOOGLE at ADS on billboards(a rather dangerous trend). They had to be particularly careful at major intersections such as COMMISSION JUNCTION, or they could get HIT. They would mainly entertain themselves as they traveled by listening to music and the latest events on RADIO DOT COM, one of the major Internet radio stations. The broadcasting was done mainly in TEXT, the main language of most speakers. HTML was the other Internet language, but most people's eyes would become glassy and begin TO GOOGLE if they heard it, because it was a strange gobble-dee-gooky kind of thing that only Martians speak.

The people living online deposited their earnings at CLICKBANKS. DOT NETS were their main source of recreation and included games like DOT TENNIS, DOT TABLE TENNIS and DOT VOLLEY BALL. Some people even insisted that SURFING was an all year activity, although others seriously questioned this. Never mind, the SURFERS said, what could be stranger than bogeying all night at BLOGOSPHERE, that crazy Internet disco? I would like to live on this planet. How about you?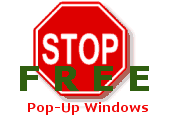 Adlandpro Toolbar gives you instant access to your Free Email Account, Free Website, submission to over 8,900 sites, learning tools, free discussion list on marketing and promotion with 26,000 subscribers, Free 5 day Website Success course by email, plus instant search. Click Here.