1. First of all, it's hard for a designer to comprehensively research all of the other trademarked logos just to see what you're up against. However, the Trademark Office has more thorough tools and methods of researching the other existing logos out there and they might find one that you overlooked.

2. Secondly, logos and trademarks can be a bit subjective. Just because you and your designer think that the design that you've created doesn't infringe on other logos, the Trademark Office might reject your application based on their interpretation of "similarity"

3. And you're not just worrying about what the Trademark Office thinks. Any other business with an existing trademark could also challenge your application. They can even ask you to cease-and-desist using your logo after it has been trademarked if they held their trademark to a similar logo first. While surrendering might not seem like such a bad thing, remember that you'd also have to destroy any existing printed collateral, forfeit your trademark (and the trademarking process isn't cheap!) and redesign all of your materials. You'll also lose the equity and memorability that you will have built up in your logo if you do have to redesign.



If you do finally manage to design and trademark a symbol-only logo, you'll have to be extra-vigilant about making sure that other companies don't design a mark that's similar to yours. You are ultimately responsible for "policing" your own trademark and will have to stay up-to-date on trademark applications.

Alternately, you could hire someone to keep an eye on new trademarks for you but that can be expensive.

You can easily avoid all of these complications by designing a combination logo that includes both a symbol and your company name. Once you've designed your combination logo, you should always use the components together. This helps avoid potential legal issues like those mentioned above.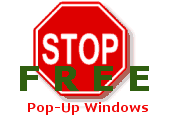 Adlandpro Toolbar gives you instant access to your Free Email Account, Free Website, submission to over 8,900 sites, learning tools, free discussion list on marketing and promotion with 26,000 subscribers, Free 5 day Website Success course by email, plus instant search. Click Here.