This process can be a bit like agreeing to play a part in a locally produced musical. You attend all the rehearsals and memorize your lines. You learn the music and are outfitted with a costume. However, after the dress rehearsal you go home and never return for the actual performance.
In the case of developing an online business a prospective owner can look at the potential of site development, hosting packages, product availability and a myriad of other issues and then just when family and friends think the business will launch the entire thought process stops and the business idea is simply referred to as "the business I could have started."
It really is a bold step to develop a business. You are assuming a variety of risks and rewards and you are placing a dream on a pedestal for all to see. What happens if no one likes your business idea? What will you think if the idea is ridiculed at some point? Wouldn't it be easier to just forget about it?
There are countless potential business owners who have shelved great ideas because they have developed a case of 'stage fright'. They would like to own a business of their own, but they find more comfort in the idea that playing it safe (and out of the spotlight) may be the only option they could handle.
Stage fright comes when anyone has to perform in a setting they are not comfortable with, but the great performers always find a way to ensure that the show will 'go on'. You can be one of the great performers you just need to find the right stage and then confidently work through your performance.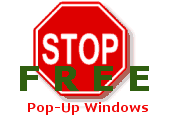 Adlandpro Toolbar gives you instant access to your Free Email Account, Free Website, submission to over 8,900 sites, learning tools, free discussion list on marketing and promotion with 26,000 subscribers, Free 5 day Website Success course by email, plus instant search. Click Here.