The next thing I would suggest you do is go to http://www.security.kolla.de and download Spybot - Search and Destroy written by Patrick M. Kolla. Patrick will allow you to download and use his wonderful program for fr.ee, if you are in a position to make a donation I'm sure he would be grateful. Run Spybot and you may be surprised at what it finds.

Once you have run Spybot and removed all the spyware from your computer you will also notice a red button which says innoculate. I suggest you click on this button and let it run. This function will write a HOSTS file to C:\WINDOWS\system32\drivers\etc In fact the HOSTS file can give you control over sites you want to allow or deny access to and this file can also be used to speed up your web surfing.

Now you may want to have a look in your registry and see what you have in there. First I must warn you if you want to delete anything from the registry make sure you know what you are doing or you may not have an operating computer anymore. To get an easy to manage report download and run Hijack This: http://209.133.47.12/~merijn/files/HijackThis.exe now carefully look at the report. If you see obvious entries
with suspicious names like por.ndialer or shopassistant (just made that up :0)) I think you could assume you should be safe to remove them.

If you want to make sure, do a search using Google, once again use your judgement - you will find many experts on the internet who aren't really experts at all. Having said that I think if you find every listing in Google says eg: por.ndialer is a trojan, I would then be satisfied por.ndialer is in fact a trojan and feel confident enough to remove it.

Another tip which is handy to remember - if you find you have a trojan, lets assume it's named harmful.exe, you may find if you simply try to delete it you can't, try to rename it and there it is, still can't delete it. Shut your computer down and reboot it in safe mode, your computer is now running only the bare neccesities and you will find you can now easily send harmful.exe to the recycle bin.

The final program I suggest you download is SpywareBlaster: http://www.javacoolsoftware.com/spywareblaster.html once you have your computer clean, this program prevents the installation of ActiveX-based spyware, adware, browser hijackers, dialers, and other unwanted pests, blocks spyware/tracking cookies in Internet Explorer and Mozilla/Firefox. It also restricts the actions of potentially dangerous sites in Internet Explorer.

Of course I expect you do have Anti virus software protection on your computer if not I suggest you download that too, quickly, if you can't afford to pay for Anti Virus protection, do a
search in Google and at least get fr.ee software.


Not too hard at all is it? :o)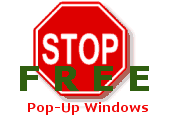 Adlandpro Toolbar gives you instant access to your Free Email Account, Free Website, submission to over 8,900 sites, learning tools, free discussion list on marketing and promotion with 26,000 subscribers, Free 5 day Website Success course by email, plus instant search. Click Here.