The Single Most Critical Thing on the Internet
©2005 by Susan K. Pellan
You can spend hours, days and even months designing the
perfect website. You can spend hundreds and even thousands
of dollars on your advertising campaign. You can do all this
with the greatest precision and if you neglect the one
critical element that is absolutely "key", you might as
well turn your computer off..for good! That one crucial
element is, without question, follow up.

It almost seems like the Internet is a living, breathing
entity, but that it has two personalities. It can be a cold
and lonely place or a warm and inviting environment. There
is an established criterion that is solidly in place and it
would serve you well to learn all you can about it. It's
pivotal to your success.
One of the most rewarding contributions you can make in this
industry is your willingness to help others succeed. Proper
follow up allows you to do just that and, at the same time,
generate revenue for your own company.

It is the universal law of "sowing and reaping". Don't just
look at follow up as a way to make money. See it as an
opportunity to help someone else get what "they" want. If
you really believe in what you are selling, this shouldn't
be a problem for you. If you don't, then you shouldn't be
promoting it!

Below are the statistics regarding the importance of
following up from the Association of Professional
Salesmen and the National Sales Executive Association:

2% of sales are made on the 1st contact
3% of sales are made on the 2nd contact
5% of sales are made on the 3rd contact
10% of sales are made on the 4th contact
80% of sales are made on the 5th-12th contact!!
As with anything Internet driven, there is a right way and
a wrong way to follow up. What you don't want to do is
make a nuisance of yourself, but you also don't want to be
forgotten. Potential customers receive a walloping amount
of "have I got a deal for you" messages and, unless yours
is unique and inviting, you will get lost in the myriad.

Even though the Internet is a staggeringly huge medium, it's
really not that hard to work yourself into a position of
authority. Persistence and integrity are the needed
ingredients and qualities. Don't try to "fool" anybody into
purchasing anything that you aren't passionate about yourself.

There are some excellent resources on the Internet to help
you construct first-rate follow up letters. Search them out,
study them and master the technique. Soon it will become
second nature to you and you will have the tremendous
opportunity to help others! What could be better than that?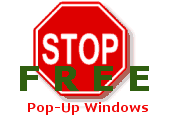 Adlandpro Toolbar gives you instant access to your Free Email Account, Free Website, submission to over 8,900 sites, learning tools, free discussion list on marketing and promotion with 26,000 subscribers, Free 5 day Website Success course by email, plus instant search. Click Here.