Do You Know What They Really Want?
©2005 by Michael Angier
All too often we make assumptions about what people want instead
of asking them. Many products, and even businesses, are launched
because the owners THINK they know what prospects and customers
want. And they frequently find out too late and after much
expense that their assumptions were flawed.

Just because you like something, just because you're excited
about a product or service, doesn't mean enough other people
will be. I'm a big believer in passion, but it can't be just
YOUR passion. Before launching something new, you should
practice due diligence to enhance the chances for your success.

We've been asking a lot of questíons of some of our subscribers
and members lately. The insight and awareness we've gained has
been invaluable. And we're making changes all the time based
upon what we've learned.
In doing so, you'll gain priceless information and endear
yourself to your customer. People want to know that you care and
they want to be heard. It's a wín all the way around. From hëre
you can tweak what you do to better serve the true wants of your
clientele.

You can also use this same process in a focus group, in person
or on a conference call. It oftentimes can work even better than
one-on-one.

The main thing is to ask. It seems so obvious, but based upon
our experiences in dealing with other companies, it's not done
often enough.
Action Point
Employ the methods outlined above. Do it on an ongoing basis. Be
willing to change and adapt to your customer's needs and wants.

In doing so, your customers will be more loyal, you'll gain NEW
customers, and you'll increase salës and profits.

Note: If you're not directly involved in end-user salës or
service, you still have customers. They may not buy from you,
but you deliver your services to SOMEONE--your boss, someone
further down the line or even a vendor. The process works in any
situation.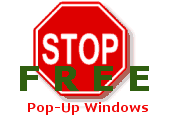 Adlandpro Toolbar gives you instant access to your Free Email Account, Free Website, submission to over 8,900 sites, learning tools, free discussion list on marketing and promotion with 26,000 subscribers, Free 5 day Website Success course by email, plus instant search. Click Here.