Bought Every Marketing Book But Still No Success?
©2005 by Alan Cheng
For anyone who is serious with their home business, buying and
reading marketing books regularly is one of the tasks which none
of us should overlook.

And why do we need to update ourselves?

Because techniques go out of date and people are getting
smarter. Need proof? When FFAs were launched onto the internet
scene a lot of people used it to market their products and services.
But nowadays they are ineffective. When was the last time you
looked at or bought from an FFA site or email?

So now you know that keeping up to date with marketing
techniques is important your next step is to find out the good
marketing information which is effective and up to date.
Always buy information products from respectable authors. If the
author of the book has a reputation of being knowledgeable
and releasing good products then by all means go ahead.

The ideal way to buy marketing material is to wait and read
other peopleís feedback of the product. If a lot of people are
raving how useful and how much they have learnt from the
book then get it for yourself.
Everyone is lazy and wants to find a shortcut. I want you to
realize this and work on this one characteristic that will change
your business. You canít do nothing and expect results.

We read a lot of stories of how people make a lot of money on
their business and how they are always successful every time
they launch a product.

All of them worked hard for it and did some extensive planning
before achieving what they have today.

Buy a marketing book/product that you think is definitely worth
it and then make a plan to buy it and concentrate on putting
all the ideas it has given to you to your business.
Unless you have exhausted the knowledge you have gained from
the new product donít buy another one. The chances are you
havenít finished with the previous product and you will never
get back to it because there are always new books and
information which come out.

Honestly say to yourself that you have placed effort in achieving
your goals with the knowledge you have got. Do something
everyday in improving your business. Even thinking about
improving your business or planning ahead is enough if you
are busy. As long as you are doing something.

Action speaks louder than words.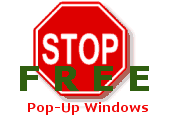 Adlandpro Toolbar gives you instant access to your Free Email Account, Free Website, submission to over 8,900 sites, learning tools, free discussion list on marketing and promotion with 26,000 subscribers, Free 5 day Website Success course by email, plus instant search. Click Here.