8 Mistakes That Can Kill Your Website
©2005 by Suzanne Falter-Barns
Ever notice how some websites feel great, energetic, fun -- you
just want to linger to soak up more? And yet other sites are
truly repellant. These tips will help you create a truly
happening site....

1. Don't use a dark background.

Think about the websites you've seen that are fun, refreshing,
and really draw you in. Ever notice they usually have a white or
light background? Dark or heavily patterned background are
emotionally draining to look at, and they're hard to read. Since
the Web is a written medium, color counts!
5. Make sure your ezine and blog scream 'BENEFIT.

Nothing worse than a soft, mushy ezine/blog that doesn't really
DO anything for the reader. Using the example above, why not an
ezine or blog called 'Hot Flashes Over 50'? Your ezine must be
more than your collected thoughts, unlike your blog which can be
more conversational. A good ezine delivers useful info to
exactly who needs it. And the title reflects that.

6. Don't hard-sell the reader.

Websites that come at the reader with all the offers up front,
and then some, dash our interest quickly. Don't put all of your
offers right out there on the home page. Rather, entice us in to
spend a little quality time with your fre.e articles, your
ezine, your insights. Give me some of what you know for fre.e,
in a dignified manner, and I'll probably be willing to pay for
the rest.
7. Don't use look-alike templates.

Tempting as that site-in-a-box price point is, avoid it
studiously. We seen them A LOT, and they do nothing for your
site or your image. Instead, hire a designer who can tweak your
template to become truly your own -- it's not as hard as you
might think. Add your own personalized images, and feel fre.e to
have them strip away some of the bells and whistles.

8. Don't blow off the keywords.

When it comes to search engines like Google and Yahoo, keywords
are your best friend. Something like 85% of your web traf.fic
will come from these words, so you'll want to handle them
carefully. Various tools like www.wordtracker.com and Overture's
keyword tool can help you see what's out there, and pick and
choose intelligently.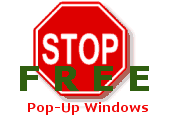 Adlandpro Toolbar gives you instant access to your Free Email Account, Free Website, submission to over 8,900 sites, learning tools, free discussion list on marketing and promotion with 26,000 subscribers, Free 5 day Website Success course by email, plus instant search. Click Here.