Testimonials and Letters to the Editor
©2005 by Marcia Yudkin
Of all the marvelous opportunities offered by the Internet
to get publicity without paying for it, two of the least-
used methods are writing testimonials for companies, books
and Web sites and penning letters to the editor.

Every time you're happy with a service performed for you or
a product you've purchased, instead of simply saying "Thank
you" or keeping your contentment to yourself, consider
writing a blurb expressing why you were satisfied, pleased
or ecstatic and emailing it to the company responsible. End
your message of praise, "And feel free to quote me on this,"
and very often the recipient will do exactly that. So long
as you follow two additional guidelines, when your
testimonial gets added to a well-trafficked Web site, you
can count on it generating click-throughs to your site.

Cheri's General Info



Cheri Merz

431

Friends
Member since

6/29/2005

Gender
Female
Age

57

Location
Midvale, UT, United States
Interests
Motivation, Success, Finance, Real Estate, Affiliate programs, MLM, Marketing, Affiliate Marketing, Advertising, Promotions, Leads, Making Money at Home, Home Based Business, Lead Generation, Education, Direct Marketing, Network Marketing, WAHM, philanthro
Company
Never2Late4 Success, Success University, Ascend Technologies International (ATI)
URL
View Never2Late4 Success, Success University, Ascend Technologies International (ATI)'s web site
Industry
Finance, debt, success, Ascend, ATI, Success University, motivation, real estate, success training
When you read an article about or for your industry that
hits home, do the same. Write a letter to the editor
agreeing or disagreeing with the piece or adding some
perspective the writer didn't mention. Such letters must be
timely - submitted within a week, usually, of the original
distribution of the article. They must also be concise -
100-200 words is ideal. As previously explained for
testimonials, they should also contain a substantive and
interesting reference to what you do.
Some publications select just a few letters for their print
edition and publish more at their Web site, while others
receive so little feedback that they use just about
everything. When you're responding to an article in a high-
circulation print magazine or a Web site read by many movers
and shakers in your industry, your letter gets distribution
to recipients you might not have had access to otherwise.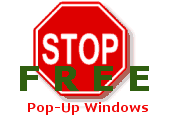 Adlandpro Toolbar gives you instant access to your Free Email Account, Free Website, submission to over 8,900 sites, learning tools, free discussion list on marketing and promotion with 26,000 subscribers, Free 5 day Website Success course by email, plus instant search. Click Here.