Isn't it time you made the income you've always dreamed of?
Of course it is! And here's how: Long-Time Internet Marketing Guru Jim Daniels (the man who helped Bogdan Fiedur, the owner of Adlandpro get his start early in his online business and earn nearly 3 million dollars!) has just released his most powerful CD System yet which will give you the ultimate edge in the world of Internet Marketing.

As a newsletter subscriber, you can get this incredible CD System through this special offer for $30.00 less than everyone else would pay.
Friend or Fraud
©2006 by Bob Osgoodby

I received an email from a valued Internet friend, alerting me
to the fact that McAfee Site Advisor (you know, the anti-virus
people) had classified my web site as a threat that could cause
a breach of browser security. Now, if you don't subscribe to
their service, you can enter my web site URL, and be taken
there. If you do have McAfee on your computer, they can redirect
you to any place they wish. In this case, they take you to a
page warning you about this.

What a crock! These self appointed guardians of the Internet
have these types of decisions made by a computer robot that
checks out all the web sites. Wouldn't you think that if the
robot found something that appeared suspicious, a human being
would intervene and check it out, before they label it as a
threat.

They labeled a web page on our web site as a possible cause of
browser security. It is a simple form that you fill out to
subscribe to our Newsletter. If you wish, you can check it out
at - http://adv-marketing.com/business/subscribe2.htm and make
up your own mind. When looking at their warning, the average
person who subscribes to McAfee, would be fearful of visiting
the site.
Jana's General Info



welcome

64

Friends
Member since

11/8/2005

Gender
Female
Location
Albany, Auckland, New Zealand
Interests
kids, sport, nature, animmals, gardering, traveling
Company
SFI, Success University
URL
View SFI, Success University's web site
Industry
Success University http://JLaholova1.successuniversity.com/specialoffer Work at home, Health, Marketing, education, hospitality

Site Advisor was originally founded in April of 2005, by a group
of MIT engineers who hoped to keep spam, adware and spyware from
invading their family's computers. McAfee acquired them in April
of 2006.

When I examined McAfee's site report on Adv-marketing.com, there
was nothing listed there as being negative what gives? They say
that when their robot browsed our web site, it made unauthorized
changes to their PC. Oh, and did I say they also state that they
put their email address in my forms. One of the forms was a
request for a free E-Book. I guess when they got it, they
considered that was an unauthorized change to their PC.

I don't know about you, but I'm getting sick and tired of other
peoples computers doing stuff like this, and making decisions
that could be very harmful to someone because it matched a
computer algorithm that some mentally challenged programmer
wrote. I also don't want them checking my mail that I receive to
determine if it is spam. The bottom line is that they allow 95%
of the spam to slip through because the spammers are smarter
than they are, and then delete some important email that I want
because it fits the profile of one their silly filters.

Visitor only for $0.01. Try our pay per click search engine. The cheapest on the market. Start here..

What right does McAfee have to intercept a request to visit one
of my web pages and reroute it to one of theirs. In my judgment
this is theft. McAfee Site Advisor is a wholly owned subsidiary
of McAfee Inc. Is McAfee Inc. a "not for profit" organization?
Not hardly.

Buy their software and you will be protected when surfing the
net. Don't bet your computer on it. The Herald Tribune reported
on the first of August that users of McAfee Software can be at
risk by allowing access to information on their computers such
as passwords and bank account numbers. A McAfee spokeswoman,
Slobhan MacDermont, confirmed the vulnerability.

Marc Maiffret, chief hacking officer at eEye Digital Security, a
competing maker of security products, said the vulnerability
affected many of McAfee's most popular consumer products,
including Internet Security Suite, SpamKiller, Privacy Service
and Virus Scan Plus.

Visitor only for $0.01. Try our pay per click search engine. The cheapest on the market. Start here..

More importantly, if someone breaks into your computer, a "nip
and tuck" to the software by a hacker, and while you may think
you are on a secure Web Site, in reality you are in a world of
hurt. You could enter the web address for your online banking
and they could reroute you to a "look alike" site, get your
account number and password, and steal your identity – not worth
the risk folks.

I don't know about you, but I'm sick and tired of supposedly
reputable firms acting like this (they say for the public good)
who try to enhance their image at the expense of others to make
a buck. Anyone who does this, I feel is a fraud and not my
friend. They were very quickly placed on my "do not do business"
with list.
ABOUT THE AUTHOR:
Did you know that subscribers to Bob Osgoodby's Free Ezine the
"Tip of the Day" get a Free Ad for their Business at his Web
Site? Great Business and Computer Tips – Monday. Wednesday. And
Friday. Instructions on how to place an ad are in the Newsletter.
Subscribe at: http://adv-marketing.com/business/subscribe2.htm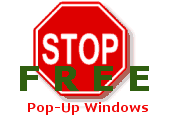 Adlandpro Toolbar gives you instant access to your Free Email Account, Free Website, submission to over 8,900 sites, learning tools, free discussion list on marketing and promotion with 26,000 subscribers, Free 5 day Website Success course by email, plus instant search. Click Here.