Isn't it time you made the income you've always dreamed of?
Of course it is! And here's how: Long-Time Internet Marketing Guru Jim Daniels (the man who helped Bogdan Fiedur, the owner of Adlandpro get his start early in his online business and earn nearly 3 million dollars!) has just released his most powerful CD System yet which will give you the ultimate edge in the world of Internet Marketing.

As a newsletter subscriber, you can get this incredible CD System through this special offer for $30.00 less than everyone else would pay.
THE ZEN OF MOTIVATION
©2006 by Dr Jill Ammon-Wexler

To be or not to be, that is the question.
> From Shakespeare's "Hamlet"

You have probably had the experience at one time or
another of feeling stuck in your life. Of just sitting
in one place - unclear of what decision you should
make.

How can you move forward in life when you feel unclear
about the next step you need to take? Admittedly, such
a lack of clarity can cause some pretty extreme
stress.

It is difficult to move forward if you do not have
clarity, since clarity of purpose often controls your
supply of life energy. Knowing what you want generates
the energy to pursue it. While not knowing drains your
energy.

So what can you do if you lack clarity? What are your
options?
Felicia's General Info



Inspired to Soar!

7097

Friends
Member since

8/4/2005

Gender
Female
Location
Fort Wayne, IN, United States
Interests
Church, ministry, music, Contemporary Christian music, Black Gospel, jazz, singing, piano, traveling, seeing new places and learning about the culture and history there, reading, Spanish, children, riding roller coasters & motion rides, following sports.
Company
~ Pro Wealth Success System ~
URL
View ~ Pro Wealth Success System ~'s web site
Industry
Home business, business opportunity, internet marketing, health, wellness, nutrition, Star 2000 Free Test Drive System, investments, investing, Online Investing, work from home, Auto Surf, Auto Surfing, Surf for Cash, leads, business opportunity leads.
If you are afraid of making the wrong choice, you can
wait and hope for clarity. Or you can try to think your
options through in your own mind.

But the truth is, you will never really figure life
out. In terms of life-questions - life has a way of
just resolving itself, with or without our conscious
intervention or so-called decision-making.

And even when we think we have everything all figured
out - life will seldom deliver a perfect replica of our
mental picture.

One good way to conquer uncomfortable indecision is to
simply make a choice from among your unknowns. Whether
or not you feel certain your choice is the right choice
- just take a small step in what seems to be the best
direction, in spite of your doubt or confusion.
Visitor only for $0.01. Try our pay per click search engine. The cheapest on the market. Start here..
There is great power in action. Movement in any
direction will break you free from the cement of
indecision - and provide new information and
experiences.

Action sends ripples of energy and change out into the
world. And since life is so totally unpredictable, who
knows how your situation will change once you get some
action energy into motion.

You may even want to think of your life as a novel you
are reading. You are only part of the way into the book
- and you really do not know what is going to happen
next. How could you know? The book is still being
written!

The challenge you face is this: Dare you move forward
in the face of uncertainty? Can you handle taking
action without knowing whether it is the right action?
Visitor only for $0.01. Try our pay per click search engine. The cheapest on the market. Start here..
You may feel confused or anxious, and wonder if you are
making the right decision. But somewhere along in your
life novel you may discover there was no right
decision.

Here is what I have learned in my own roller coaster
version of life: If you find you have stepped onto the
wrong path, you can always adjust your direction. And
any so-called mistakes simply add to your personal
wisdom about what does not work -- thus taking you
closer to discovering what does work.

There is great power in action!

Go for it. Even if you make the wrong choice, at least
you will generate some Zen action energy and break free
of the painful, mind-numbing cement of indecision!
ABOUT THE AUTHOR:
Jill Ammon-Wexler is a doctor of psychology, former
consultant to the Pentagon and a Presidential
Commission, and a peak performance advisor to top
executives and entrepreneurs.

Her powerful "Take Charge" personal achievement
ecourse is being used is 21 countries by thousands
of individuals seeking the ultimate in personal
empowerment. For info=>
http://www.quantum-self.com/smash_your_limits.htm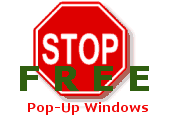 Adlandpro Toolbar gives you instant access to your Free Email Account, Free Website, submission to over 8,900 sites, learning tools, free discussion list on marketing and promotion with 26,000 subscribers, Free 5 day Website Success course by email, plus instant search. Click Here.