* Offer a trendy new service. What unmet needs of existing clients could
you satisfy? Invent new services or shift sideways to parallel services you
might not otherwise bother with. The billing company, which normally
concentrated on insurance reimbursements, now said it would also collect
overdue balances from individuals who had promised to pay out of pocket.

* Telemarket to new prospects with an irresistible offer. Bend over
backwards to prove yourself to people who have never done business with you. Your offer needs high appeal, a low introductory price, and a
guarantee that removes all or most of their risk in trying you. For the
billing company, the inducement was the first quarter of service for half
price, and no charge at all if at the end of 30 days the new client wasn't
100 percent convinced that the change simplified their office routines.
* Sell your white elephants. Do you have inventory collecting dust in a
storeroom -- or property that you could quickly convert into salable items? The training firm had proprietary manuals for each of its courses that it could sell as add-ons for its other classes or consulting. It could also license them to other training firms that hadn't gotten around to creating their own products. Indeed, even if you're doing fine, you might have wares you haven't bothered to sell in a while. Through online auctioner eBay and its competitors, you might be able to turn your white elephants into cash -- fast.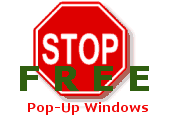 Adlandpro Toolbar gives you instant access to your Free Email Account, Free Website, submission to over 8,900 sites, learning tools, free discussion list on marketing and promotion with 26,000 subscribers, Free 5 day Website Success course by email, plus instant search. Click Here.