What effect are your competitors having on your business? Is the economy buoyant or sluggish? Is the demand for your products and services increasing or decreasing? How effective are your advertising campaigns? How effective are your Pay Per Click campaigns?

Just like a pilot must monitor his instruments to stay on course, so must you monitor your sales and marketing activities to ensure you are on track to make a profit.




Reviewing and analyzing the effectiveness of your advertisements, your sales copy, your ecommerce system and the other critical elements within your entire sales process will allow you to identify strengths and weaknesses. You will then have the knowledge that will enable you to capitalize upon your strengths and to address your
weaknesses.

Testing and tracking is a critical sales and marketing activity and something that you must focus on if you are to steer a profitable online course.


Copyright © John Taylor 2003.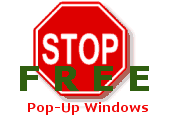 Adlandpro Toolbar gives you instant access to your Free Email Account, Free Website, submission to over 8,900 sites, learning tools, free discussion list on marketing and promotion with 26,000 subscribers, Free 5 day Website Success course by email, plus instant search. Click Here.