The Holiday Season Is Upon Us
©2005 by Bob Osgoodby
Despite all the negativism by a small minority, the Holiday
Season is upon us. Yes Virginia there is a Santa Claus and there
will be a Christmas. With the rush of holiday shopping however,
people tend to neglect their online businesses.

Every business has its peaks and valleys. During the Holiday
Season for example, retailers have their peaks. Other businesses
may suffer however, but even during the "lean" times they must
still meet their monthly obligations.

The pundits may argue that the economy is what is causing
turmoil and business failures. Businesses that do fail however,
most likely have overextended themselves, to the point that
their cash inflow wasn't enough to cover their expenses. How
does this affect the small entrepreneur? Can we learn a lesson
from this?

It doesn't matter how great your product is or how wonderful
your service, if you don't have customers, all you have is a
skill, or a product. People don't go into business normally as a
hobby, although a lot of hobbies do turn into a business. The
trick however, is to turn it into a positive cash flow to
realize your goals. If you're serious about doing business, you
must plan for the long run. Successful businesses don't normally
just happen. They are the result of long hours of planning, and
a great deal of work.
If the answer is "yes", how are you going to promote it? Most
companies recommend you exhaust your "warm market" first. Your
"warm market" is your circle of family and friends that you
might convince to join in with you. Eventually however, you are
going to exhaust this market and must start seeking people
outside that circle.

One way to attract new people is in the online arena. While this
will not replace the "face to face" contact that is necessary,
if it is done correctly, it can add a valuable source of
additional income.

Many people make the mistake of using a web site supplied by
their company. While this can be a valuable tool, it really ties
you into their product. If you get your own site, you can use it
to highlight your offerings. It is of course necessary to
advertise your web site, and ezines and newsletters usually give
you the best return on your investment. With a modest investment
on your part, you can realize a decent return.
Usually, for less than a few hundred dollars, you can get a web
site and advertise in ezines targeted to your potential market.
Most people can afford this without counting on their cash
intake to cover the expenses. Determine what you can spend out
of pocket to make something like this work. Then, as your cash
flow improves, expand your advertising to include a broader
market.

While this is a modest start, it doesn't put you in the position
where you must realize income to make expenses. Above all be
patient and realize it will take time and effort to realize your
goals. Remember, during the holiday season, you can take some
giant steps forward while others are neglecting their businesses.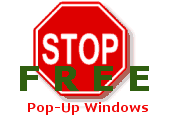 Adlandpro Toolbar gives you instant access to your Free Email Account, Free Website, submission to over 8,900 sites, learning tools, free discussion list on marketing and promotion with 26,000 subscribers, Free 5 day Website Success course by email, plus instant search. Click Here.