Sue's General Info



Me working at home, 2004

392

Friends
Member since

2/20/2007
Employees often think that their job is to protect the company from the customer. Plus, they often believe that complaints are a sign of failure rather than an opportunity to grow. And none of this will change unless it is both communicated and demonstrated by top management. Who would risk stepping out of the box to resolve a customer complaint if they thought that doing so would get them zapped?
POS Point: The least expensive way to resolve a complaint is to apologize and ask the customer what would make things right.
Four Steps to Service Recovery
Establish rapport. Let the customer know up front that you are on their side. This is more than an apology but that's a start.

Discover the Problem. Ask them to describe the problem exactly - just listen.

Offer a complete solution. Ask the customer what they think is right. Agree and up the ante to prove that you are serious.

Cement the relationship. Apologize again and tell what will be done to prevent a reoccurrence.
If you need a simpler rule for complaints, let it be this: Do whatever it takes to make things right when things go wrong - no matter what.

3. A customer with a complaint is asking you to help them remain a customer. Complainers are your most loyal customers. They want to continue to do business with you. If they didn't, they would walk across the street and be done with you. Customers who complain are giving you a chance to set things right. Don't blow it.
Complaints are opportunities that you probably haven't seen. If you saw them and failed to act, you don't deserve to have customers who are nice enough to volunteer their help. Hey! It's a pain in the ya-ha to go to the manager and register a complaint.
What if the manager treats you rudely? What if the manager's idea of fixing a complaint is climbing someone's clock? What if you complain and from then on the staff treats you like dirt? Nope, the easiest way out is out. Just leave. Don't rock the boat and be sure to tell everyone you know about how badly you were treated.
No, complainers are friends. Just try to keep your list of this kind of friend as short as possible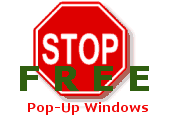 Adlandpro Toolbar gives you instant access to your Free Email Account, Free Website, submission to over 8,900 sites, learning tools, free discussion list on marketing and promotion with 26,000 subscribers, Free 5 day Website Success course by email, plus instant search. Click Here.